E-Commerce Technologies
E-commerce solution for smooth management of site content, product details and orders to boost user shopping satisfaction.
Olympus Cameras and Lenses
Magento based e-commerce portals provisioning online product selling for Olympus Singapore, Olympus Malaysia & Olympus Thailand including Cameras, Lenses, Binoculars, Audio equipment and related accessories. A one-stop solution for consumers to review & purchase the products of their interest seamlessly via the integrated payment gateways.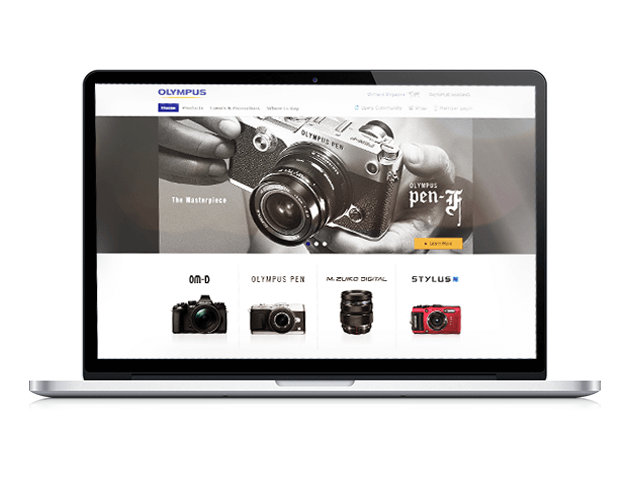 Olympus
Olympus enables the provisioning of online product selling for Olympus Singapore, Olympus Malaysia & Olympus Thailand including Cameras, Lenses, Binoculars, Audio equipment, Scientific solution and related accessories. Properly structured navigation of the website provides hassle-free and smooth user experience.

Shoptiq Singtel
Shoptiq is Singtel owned e-commerce solution dedicated to small scale business. Our developers have leveraged the Drupal technology to ensure Shoptiq is useful for its client to smartly reach bigger user pool. This e-commerce application is a complete eco-system to help users choose and integrate appropriate technology for maximum market exposure and even better brand expansion.

FNA Group
FNA group international is an established authority in the distribution and retailing of chocolate and confectionery in the Asia Pacific realm. Our developers have put their CodeIgniter expertise to design a web application that is in strict accordance with their service. Our designers have followed industry standards to highlight their core values using amazingly eye-pleasing color pattern. It is a clutter-free website with minimum content yet all business aspects being covered completely.

Fash Journal
Fash Journal is fashion lovers heaven that allows users to view the articles and videos on fashion, health, beauty and style. Their primary focus is on delivering tomorrow's trends today for free at the same time engaging readers with updates on local and international fashion. Our web developers understood their objective and developed their web platform with fashion friendly UI. Their updates on fashion ensure fashion cater to taste and choice of all
Charly Selection
Charly Selection believe in providing high-quality Italian handmade shoes online that reflect user sophistication. They are also expert in handbags. Our developers expertise lead to development of bespoke interface and minimalist design such that it set standards for easily approachable option online and browse the details in a clutter free manner.
Elky
Elky group allows users to order their favorite furniture and other home decor items to elevate the outlook of their home and add a personal touch to it. Our Magento developers have ensured clutter free menu to easily access all items listed on the store. The business-friendly theme and appropriate filters are key to appeal customers and inspire them for a purchase.
Got a new project? Drop us a line.