Fashion & Apparels
We provide fashion and apparels industry solution with full back end automation to update application data with global fashion trends.
BACK TO INDUSTRIES
Catch up latest fashion trends with single app
Fashion and apparel industry had benefited from our innovative approach to mould wide array of global fashion parameters into single sense of style.
The web and mobile technologies offered by us are as varied and impactful as your clothes are.

Professionals at Singsys are engaged in developing highly creative, unique and "charming" websites and mobile apps for fashion connoisseurs. We understand that each fashion store or designer out there is driven by markedly different sensibilities.

We specialise in creating websites and applications that reflect your uniqueness in the best manner possible. Amplify your online identity with the help of the highly purposeful, engaging and navigable fashion & apparel websites and mobile applications. When it comes to leveraging technological know-how for higher conversions, there's hardly anyone better than us. Do collaborate with us in order to find out whether our claims are right or not. Trust us and see what we can do for you!
Olympus
Olympus enables the provisioning of online product selling for Olympus Singapore, Olympus Malaysia & Olympus Thailand including Cameras, Lenses, Binoculars, Audio equipment, Scientific solution and related accessories. Properly structured navigation of the website provides hassle-free and smooth user experience.

Oaks
OAKS serve a wide range of premium wine collected from all favorite location around the world. A wide assortment of products and high-quality service are behind OAKS being largest wine retailer in Southeast Asia. We have developed pleasing UI to ensure hassle-free navigation for wine lovers and also engaging popups of specific wine featured to let the user know all necessary details about the product. We have also developed an iPad application for them.
IVY
IVY is a IoT based personal security mobile application. We have developed it to generate a loud alarm, send user location with audio recording and make an emergency call to selected contact upon few simple taps. In this manner, this app is useful to in avoiding any form of assault and keeps you connected 24/7. The productivity and security provided by the app and its synchronisation with jewelry makes it an ideal gift choice for your loved ones to make them feel secure and safe everywhere.
Caraters
Caraters, world leading diamond dealers provides precious diamond for precious people of your life. These diamonds are certified on quality and flawlessly handcrafted in 18K white gold to define the dazzle. We have developed web app to highlight Caraters efforts by ensuring smooth navigation and an interactive product detail section. Diamonds are available in all appealing shapes. Caraters is also available as an android an iOS app.

Scissors Paper Stone
Scissors Paper Stone is a team of professionals who specialize in kids-oriented businesses and services such as kid's haircut, catering to children's needs with much expertise and experience. We have designed both an app and website for Scissors Paper Stone.

Bakipa
Bakipa is, without a shred of doubt, the best baby, kids & maternity products app. It offers busy parents a convenient and quick way of purchasing a myriad of tested and products within a few quick clicks. Bakipa offers a platform for different products which range from toys, watches, and baby clothes to necessities for the maternity period. It's a platform which is designed to furnish the worldly needs while, at the same time, keeping parents as close to their kids as it's possible. This guarantees a warm and nurturing environment and atmosphere amongst them.
LoveFix
LoveFix believe in uniting the peoples globally who love to be together by dismissing the boundary between them. The technology is aimed to make dating a delicious experience by turning uneasy moments and unnecessary long process into an interactive experience. LoveFix makes it possible Everywhere, Every time.
iSolace
iSolace Android app which is managed by flexible admin panel developed by using CodeIgniter on App Engine with MySQL DataBase. Will bring peace-of-mind to you and your family by securing your all needful assets, contacts and their beneficiary along with that you can make arrangement to your own funeral like Dress code, locations, flowers, and prayers. The application will help you to enter details of your specific friends who you want to be notified of your wishes and other important information when the end arrives.
Charly Selection
Charly Selection believe in providing high-quality Italian handmade shoes online that reflect user sophistication. They are also expert in hand bags. This website is built on Prestashop. Their Free Shipping and Free Return Policy along with bespoke interface and minimalist design set it as an easily approachable option online.
Elky
Elky an online web store, built on Magento eCommerce for Elkygroup Pte Ltd. Elky is the only one-stop  full solution for residential or commercial hardware manufacturer and wholesale distributor in top level products fit for all purpose demands regionally.
Ready Coutour
Couturissimo aims at lessening the gap between couture and ready-to-wear by offering you couture ready collection from globally renowned couture designers. They are passionate about making the generally inaccessible world of high-end couture easily available and equally affordable.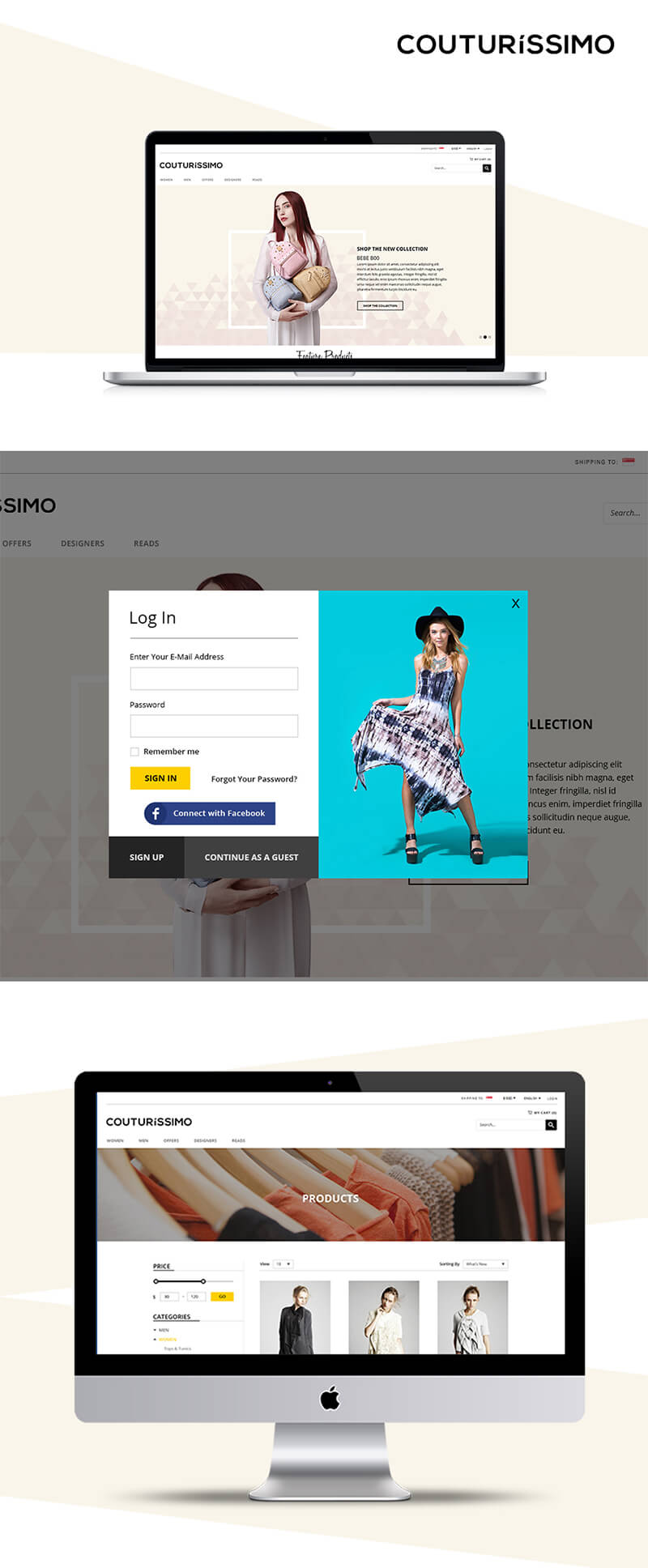 MayOffice
May Office is one of the most prominent and noticeable manufacturer and supplier of office chair products. We tailored this website by using Magento CMS. Along with manufacturing office chairs May Office also produce other office equipment. Their main focus is to help companies to build and establish a highly functional working environment.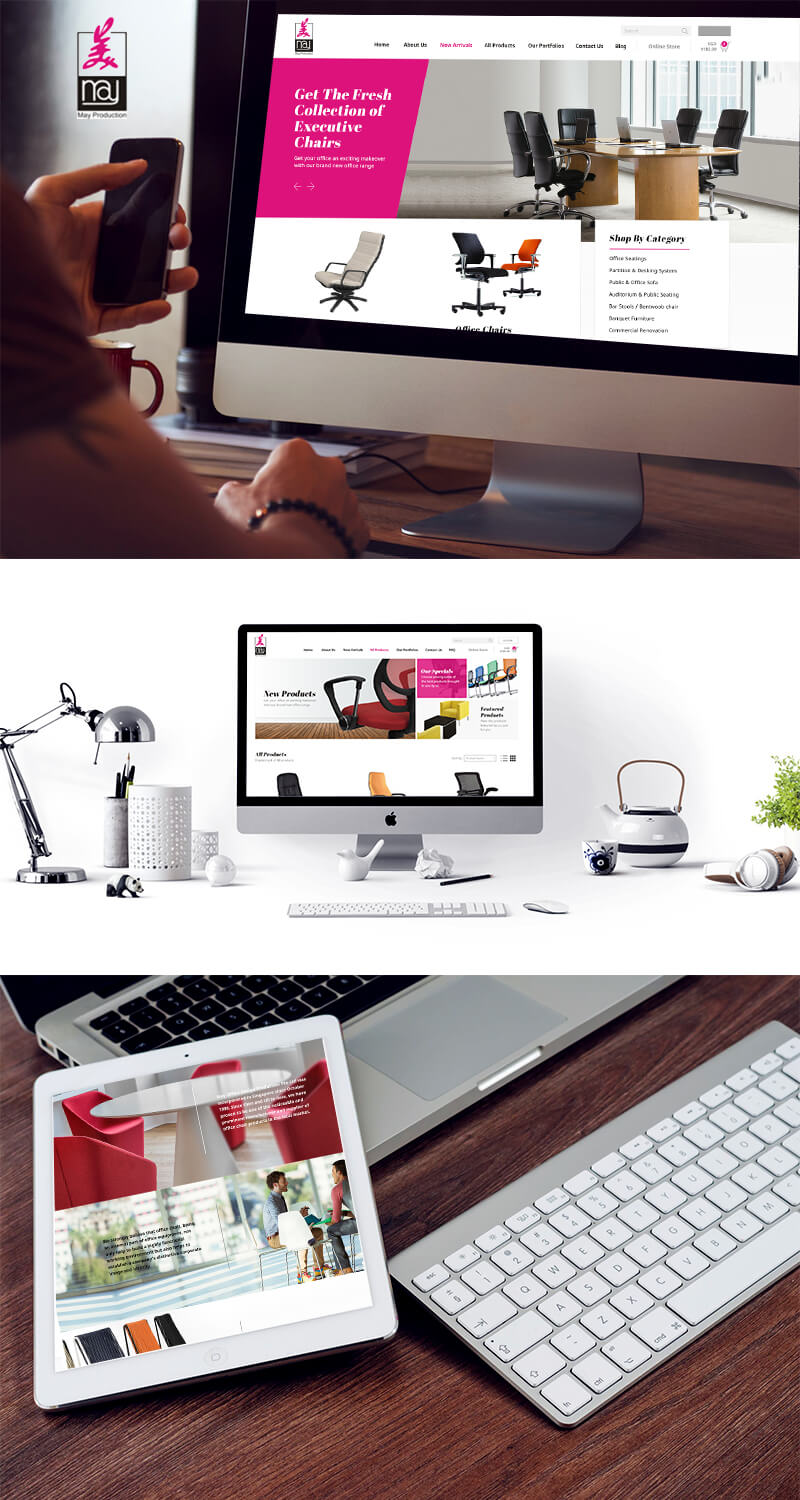 Soclothed
Soclothed is PHP - MYSQL based application that let women's to sell their extra cloth that are no more in use to earn their share. It also is an opportunity to buy clothes . This idea of sharing is based on reasonable price structure to ensure no lady is left out. 

Fash Journal
Fash Journal is fashion lovers heaven that allows users to view the articles and videos on fashion, health and beauty and style the latest fashion. Their primary focus is on delivering tomorrow's trends today for free at the same time engaging readers with updates on local and international fashion.
Nufactor
Nu-Factor is a Prestashop based application based on concept of learn from ,nature extract from nature. It provides safe and certified Supplements to ensure health is in prime condition which is utmost importance to experience good quality of life.
Got a new project? Drop us a line.