Food & Beverages
Singsys is leading application provider in Food industry with our intuitive UI for excellent UX and availability of all food items.
BACK TO INDUSTRIES
Instant review & instant delivery of favorite food or beverage
Showcase your culinary creation to the world through our food and beverages Apps.These applications are available for iOS and Android platforms.
We create impeccably stunning websites and mobile applications where you can showcase your culinary creations.

Our unmatched experience in crafting food and beverages websites and mobile apps has made us one of the trustworthy names in the market. We have worked closely with a number of food companies out there and have helped them in gaining substantial traction in the industry as well.

We develop food and beverages websites and applications for companies of all sizes (large, medium and small). You can get in touch with your specific needs and find out about our packages. You are not required to shell out a fortune in order to access our premium mobile app and web development services. Get in touch with us to find out more.
The Cocoa Trees
The Cocoa Tree is an online heaven for Singapore Chocolate lovers. Customers will find every possible chocolate on this emerging online shop in Singapore. Based on Magento 2, it allows customers to buy various other snacks as well as arrange gift hamper for special occasions.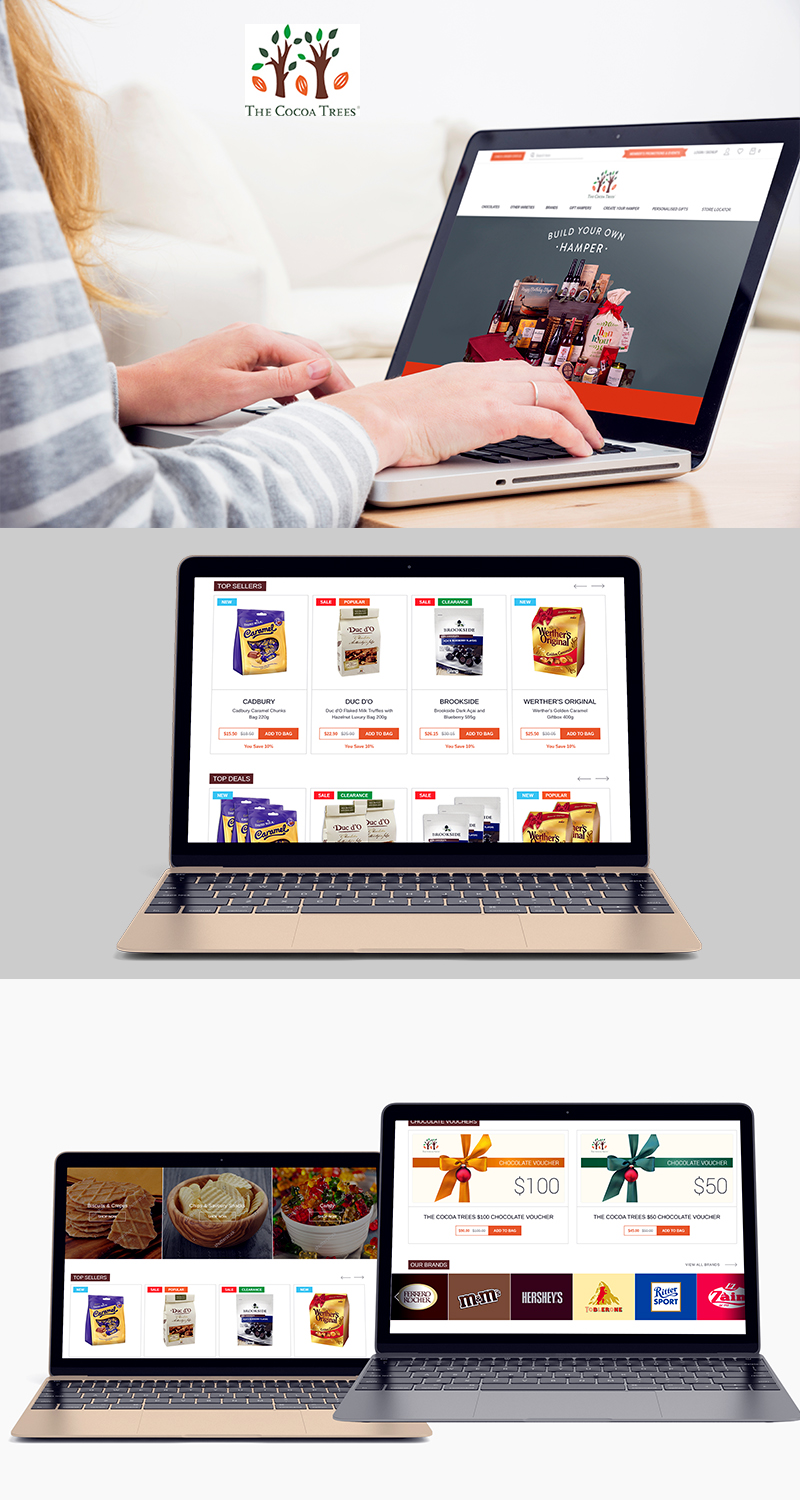 FNA Group
FNA group international is an established authority in the distribution and retailing of chocolate and confectionery in the Asia Pacific realm. Our developers have put their CodeIgniter expertise to design a web application that is in strict accordance with their service. Our designers have followed industry standards to highlight their core values using amazingly eye-pleasing color pattern. It is a clutter-free website with minimum content yet all business aspects being covered completely.

EatBack
EatBack is iOS based application for food lovers. It searches and display best cashback offers on restaurant meals in Singapore. It notifies you about restaurants giving cashback offers on their meal. 
Oaks
OAKS serve a wide range of premium wine collected from all favorite location around the world. A wide assortment of products and high-quality service are behind OAKS being largest wine retailer in Southeast Asia. We have developed pleasing UI to ensure hassle-free navigation for wine lovers and also engaging popups of specific wine featured to let the user know all necessary details about the product. We have also developed an iPad application for them.
gitr
GITR is New York based app for 21+ user who love to drink in groups. It's a SaaS based web application with chat support. Our designer have considered every crucial UI factor to design an intuitive layout that allows users to purchase, redeem, send and receive drink coupons to family, friends and locals within seconds. GITR is end user specific app while GETR is for use by bar owners.
BZR
This application is specifically designed to enable Halal food lovers to find finest halal food around them quickly. Our developers have ensured easy four-step hassle-free process to get your halal food delivered comfortably to your doorsteps. Secure and convenient e-payment option makes this app even more delightful. It is a good app to connect users with their favvy chefs and explore more.a
Got a new project? Drop us a line.