Portfolio
Let's glance at some of our renowned Mobile, Web and E-commerce solutions that are inline with your business objectives.
Way FengShui
Way FengShui Almanac App is dedicated to reducing workplace and business risks and maintaining your peace of mind. We have desinged the 2017 edition of the app with Way FengShui appropriate theme and an appealing User Interface to let users find all the information on behalf of clutter-free format. Our developers ensured to fit every Way FengShui and Chinese astrological calculations related detail as well as developed an in-app digital Luo pan to easily locate directions for home orientation.

Olympus
Olympus enables the provisioning of online product selling for Olympus Singapore, Olympus Malaysia & Olympus Thailand including Cameras, Lenses, Binoculars, Audio equipment, Scientific solution and related accessories. Properly structured navigation of the website provides hassle-free and smooth user experience.

INGRAM
INGRAM is renowned for recognizing markets and technologies that are poised to benefit global IT industry on behalf of its logistics capabilities. Our Android and iOS developers on behalf of their expertise built an engaging app with exciting real-time spin wheel for an engrossing user with a lucky draw. This has ensured an appealing and clutter-free UI for great user experience.

Click Project Schedule of Finishes
Click Project Schedule of Finishes
KPMG
KPMG is one of the largest professional services providers in the world and one of the Big Four auditors, along with Deloitte, Ernst & Young and PricewaterhouseCoopers. Their mobile application play an important role in their brand maintenance and support features that reflect KPMG motive to provide value-added services to clients. Their services range from risk, financial & business advisory, tax & regulatory services to internal audit and corporate governance.
High Tech Solutions Brochure
High Tech Solutions Brochure
Shoptiq Singtel
Shoptiq is Singtel owned e-commerce solution dedicated to small scale business. Our developers have leveraged the Drupal technology to ensure Shoptiq is useful for its client to smartly reach bigger user pool. This e-commerce application is a complete eco-system to help users choose and integrate appropriate technology for maximum market exposure and even better brand expansion.

Ten vehicles
Ten Vehicle is a Tour and Travel Application dedicated to commuters. In this application our developers enabled the user to be notified of the driver's profile, plate number, model along with choosing the custom vehicle of their choice for stressfree ride experience. TEN credit can be used for Top-up and avail promotions to ensure maximum users benefit from this app. Security is no more a concern as developers enabled an emergency button for users to alert TEN vehicles about their panic by holding it for 3 seconds.

Malaysia One Cloud Smart Buy and Control Panel
We have designed a hassle free web platform for Malaysia One Cloud to ensure it serve various user need on wide range of cloud-based products and services like CRM, ERP, finance, communication, security, network and more.
FitSys
To evaluate the health of individual employee we created FitSys. Its based on the records, certain medical factors like weight, height, blood pressure and pulse rate.
Singsys Business Card
Singsys Business Card
Sinco
We have designed and developed a website for SinCo Technologies, a leading integrated manufacturer of Plastics, Rubber and Silicon engineering components. The website is based on HTML and Javascript and our developers have designed it with the appropriate theme to ensure it highlights their products and connect them with target audience as well as establish them as an authority in their niche. SinCo expertise in engineering design and mold fabrication to manufacture and assemble finished components.
Tueetor
Tueetor serves as a flexible online platform for student and teacher for the enhanced learning experience and earn for their service. It is the fastest mode to provide learning and earning the opportunity to tutor and student. It encompasses a wide array of the subject from academic, sport, instrument learning, to the specific genre of dance. Our designers have provided the important feature of instant notification as well as enabled access to the website without Sign-up. We have provided smart option to filter the location of your choice on the map in real time right on the homepage. Interestingly, their service is available without any referral fee.

Singsys Standy
Singsys Standy
Changi Airport
Changi Airport FOD mobile app will resolve any issues related to unwanted objects that could be a possible threat to an aircraft. Our experienced iOS developers have provided the option to snap and confirm the foreign object on the runway and update it to concerned authority thereby prompting him to resolve the matter as soon as possible.
Oaks
OAKS serve a wide range of premium wine collected from all favorite location around the world. A wide assortment of products and high-quality service are behind OAKS being largest wine retailer in Southeast Asia. We have developed pleasing UI to ensure hassle-free navigation for wine lovers and also engaging popups of specific wine featured to let the user know all necessary details about the product. We have also developed an iPad application for them.
Consult Group Flyer
Consult Group Flyer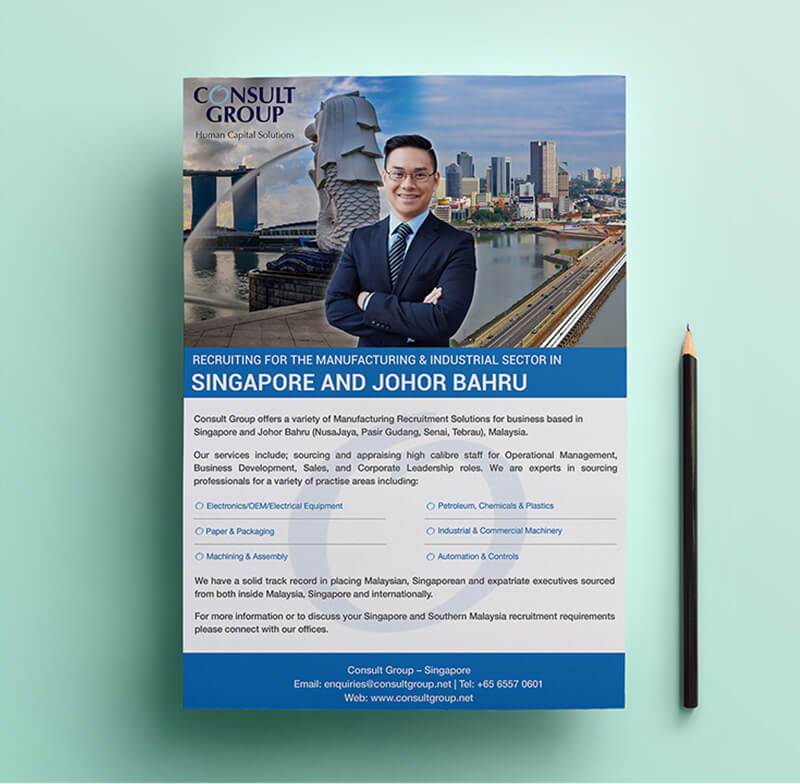 Unibly
A social networking application where people having the same area of interest can get in contact with each other and can perform socializing activities.
Green Assense
Green Assense
Click Project Corporate Brochure
Click Project Corporate Brochure
FNA Group
FNA group international is an established authority in the distribution and retailing of chocolate and confectionery in the Asia Pacific realm. Our developers have put their CodeIgniter expertise to design a web application that is in strict accordance with their service. Our designers have followed industry standards to highlight their core values using amazingly eye-pleasing color pattern. It is a clutter-free website with minimum content yet all business aspects being covered completely.

SAPhire
SAPhire is funded by Singapore's prestigious A-STAR GENOME Institute of Singapore, a Govt of Singapore organization. Our designer has leveraged cutting-edge technology to provide a most suitable platform for genomic and bioinformatic scientists and regulators to enable the translation and implementation of robust, validated pharmacogenomics biomarkers with full cost-effectiveness. We have provided them an amazing web application to express their concern about ADR to the maximum.
EatBack
EatBack is iOS based application for food lovers. It searches and display best cashback offers on restaurant meals in Singapore. It notifies you about restaurants giving cashback offers on their meal. 
BID
Business Insurance Delivered (BID) is a Singapore based top profile Insurance company which provides you Commercial Insurance and Personal Insurance for your Company it protect you from every aspect of your business which may arise from your daily operation by providing a Professional level of cover through which you can arrange all business Insurance solutions and Personal Insurance Solutions for Individuals. The Company Identity such as it Logo is well designed which gives it a perfect Graphic mark and its branding consistent such as Envelope, Letter Head and Business card is well published that we get ensure that a company gets what they deserve.
Dobiz Standy
Dobiz-Standy
CloudSelect
Cloud Select is an advanced cloud management platform to smoothly and securely manage every aspect of the cloud ecosystem. Our developers have put full efforts to ensure it is one stop solution to cater all types of cloud services like buying, selling, consuming, and managing. We have leveraged our technical expertise to ensure that a variety of domains are supported by Cloud Select irrespective of business size. The intuitive UI of web application promises a smart overview of all key factors present in a cloud ecosystem

Click Project Duo
Click Project Duo
Doctor Anywhere
This application is a major breakthrough in a medical industry that connects patients with doctors in most comfortable and quick manner. The effort of our developer and designer infused in this app were appreciated at channel news Asia. We have crafted an entire virtual clinic to make the patient feel safe without a visit. The video consultation feature is secure and clutter free medium to connect patients with doctors.
uParcel
uParcel is easy to operate smartphone-enabled parcel delivery service provider with affordable price structure and let you locate your parcel with GPS enabled tracking system. The web application is developed using Core PHP. Their modern management skill enabled them providing customised logistics solution that is are equally suitable for both small packages or large cargo. They offer you to be a freelancer agent and earn. 

Consult Group
This project includes poster design for the walls of leading specialist recruitment group placing professional people for companies invested in Asia Pacific.

gitr
GITR is New York based app for 21+ user who love to drink in groups. It's a SaaS based web application with chat support. Our designer have considered every crucial UI factor to design an intuitive layout that allows users to purchase, redeem, send and receive drink coupons to family, friends and locals within seconds. GITR is end user specific app while GETR is for use by bar owners.
Changi hopital pocket Guide
Changi hopital Pocket Guide
SPS Flyer
SPS is a kid-friendly hair salon in Singapore that believes every kid deserve fun. They cater to children's needs with handling your kids while doing their hair. We designed a website with a kid-friendly UI to appeal users and an iPad application to help parents in getting a membership and get their queue number generated. They are aware that doing a kid hair is no easy job, therefore, always ensure to engage your little one with engaging iPad games and movies so the haircut is a pleasant experience. Their web application is based on CodeIgniter.
iSolace
iSolace Android app which is managed by flexible admin panel developed by using CodeIgniter on App Engine with MySQL DataBase. Will bring peace-of-mind to you and your family by securing your all needful assets, contacts and their beneficiary along with that you can make arrangement to your own funeral like Dress code, locations, flowers, and prayers. The application will help you to enter details of your specific friends who you want to be notified of your wishes and other important information when the end arrives.
Fortress Insure Solutions Hub (FISH)
Fortress Insure Solutions Hub (FISH) is a website designed and developed by us with the aim of creating the best experience for consumers to get comprehensive insurance solutions tailor-made to protect their business and personal assets. It is a web portal that provides wide range of insurance products to suit all different business and personal needs. We tried to completely bring the user friendly experience that presented the full range of services in a clear and engaging way.

BZR
This application is specifically to cater enable halal food lovers find halal food around them quickly. Our developers have ensured easy four step hassle free process to get your halal food delivered comfortably till your doorsteps. Secure and convenient e-payment option makes this app even more delightful. It is designed in a way to connect users with their favvy chefs and explore more.
Click Projects
CLICK is Singapore based popular brand for responsible for providing modern modular building at affordable rates. This website is built on the latest version of Wordpress CMS. The CLICK offers to integrate cutting-edge architectural design & methodologies to create beautiful buildings.Their logo reflects their intention and passion towards the modular apartment building. They have sufficient information on their print media to give their brand an extended reach and maximum exposure.ure.

Smart pocket
It is built on CodeIgnitor framework with MySQL backend. User perspective is in focus while designing a smart and modern solution to make the online purchase a comfortable experience. It informs the user regarding purchase process, payment methods, various warranties, the delivery service and other similar useful details to better equip user before making a purchase. Smart Pocket experience bridges the gap between user and merchant in the realm of e-commerce.
LoveFix
LoveFix believe in uniting the peoples globally who love to be together by dismissing the boundary between them. The technology is aimed to make dating a delicious experience by turning uneasy moments and unnecessary long process into an interactive experience. LoveFix makes it possible Everywhere, Every time.
Scissors Paper Stone
Scissors Paper Stone is a team of professionals who specialize in kids-oriented businesses and services such as kid's haircut, catering to children's needs with much expertise and experience. We have designed both an app and website for Scissors Paper Stone.

IVY
IVY is a IoT based personal security mobile application. We have developed it to generate a loud alarm, send user location with audio recording and make an emergency call to selected contact upon few simple taps. In this manner, this app is useful to in avoiding any form of assault and keeps you connected 24/7. The productivity and security provided by the app and its synchronisation with jewelry makes it an ideal gift choice for your loved ones to make them feel secure and safe everywhere.
Bridge
LetsBridge is a location based android app. They believe people with close areas of interest should meet to spend quality time. They provide smart keyword search to narrow done searching to meaningful options. Similar interest Boost up intimacy and leads to strong healthy relationship. Privacy is taken care of with in-built messenger of the app also they promise not to post any content on your social media. 

acrafile
ACRAFILE PTE LTD is synonymous with best and affordable secretarial services provider to companies in Singapore. Their specialization has evolved them into a one-stop solution of on-line corporate secretarial business solutions that suits every enterprise irrespective of their size. Acrafile tailor the support under the expertise from different areas to ensure that client receive most appropriate service suitable for their business model and workflow.

Caraters
Caraters, world leading diamond dealers provides precious diamond for precious people of your life. These diamonds are certified on quality and flawlessly handcrafted in 18K white gold to define the dazzle. We have developed web app to highlight Caraters efforts by ensuring smooth navigation and an interactive product detail section. Diamonds are available in all appealing shapes. Caraters is also available as an android an iOS app.

BetaBod
BetaBod solves the purpose of sorting out most suitable fitness studios, gyms, boot camps in Singapore that perfectly match your barometer of your budget. They also allow you opt a fitness center in close proximity. Their transparent and updated review system can be trusted to choose the most appropriate option to stay fit. An option to schedule your workout session and set fitness is also available for smart management of your fitness routine.
Fash Journal
Fash Journal is fashion lovers heaven that allows users to view the articles and videos on fashion, health and beauty and style the latest fashion. Their primary focus is on delivering tomorrow's trends today for free at the same time engaging readers with updates on local and international fashion.
Parky
Parky is your perfect parking solution that has an exhaustive information about hundreds of parking location in Singapore. It saves your time by notifying you with the most feasible location to park your vehicle. You need not worry anymore to wait for payment which can be quickly and safely managed via online payment process.
Green Planner
It is based on the genuine concept of mitigating the air pollution. Our developers have ensured that app contains a well-researched database of plants that are powerful air pollution deterrents. Biological as well as local both names are present to ensure none of our users miss out on important information. We have also provided a suitable location where these plants can minimize the air pollution in a maximum manner.

Renn Property
Rennproperty is a popular real estate and property selling and buying platform in Singapore. Our experts made it using PHP and MySQL database. The site has a variety of Industrial, Commercial and Residential properties. Website has a soothing interface to work with.
GIVO Donner and Charity App
GIVO app is developed to enable people to follow the causes and charities that matter most to them. We have designed the app to allow the user to share photos and stories in a manner that user connects themselves with others globally. We have ensured the user can track donation activity and promote upcoming events with a user-friendly interface.

LuxeTalk
LuxeTalk is the perfect online platform dedicated especially towards luxury lover who is passionate about sharing their unbiased reviews and opinion on luxurious and high-end brands, products, and services they have experienced in return of cash, rewards or contributions to their favorite charity. They are involved in various categories majorly luxury goods, hospitality and travel, entertainment, financial, insurance, publishing, premium spirits, retail, and e-commerce.
Find me
Find me is an Internet of Things which is the simplest way to track your important items, so you can always be connected to the things which you can't afford to lose. This app is developed for iOS using swift and in Android, using Java technology. Find your lost or misplaced items through this IoT based mobile application which is developed to deliver a perfect user experience and safety of your important things.
Fudster
Fudster Mobile App engage its audience with Discover Share Expand and Follow food recipes. Our designer has opted food friendly app development theme to please the food-loving community. During development, we have ensured that users can smoothly browse through recipes based on behalf of a huge number of categories and keywords and feel connected with foodie community. It allows the user to discover trending recipes and share trending as well your own recipes with your foodie friends, This app will be useful in expanding your culinary art, improvising existing recipes and follow Fudster buddies. It is all about fun with food. Fudster app enables food lover community to experience and explores various flavors of food under multiple cuisines.
Me-Retail
ME-Retail Solution is a one stop automated platform for all your online store inventory, warehousing and delivery needs. Their automated inventory and warehouse management system help online stores in Pick, Pack, Handling, Storage and delivery services. The application also allow user to upload their used product and let merchants to browse and buy the used product of his choice.
JustRaceLah
JustRaceLah is an Andriod and iOS App exclusively designed for health enthusiats especially for runners in Asia - Pacific that provides a huge database of nearly 3000 race events. Our designers ensured to provide race ready UI to motivate user into participating in race events. We have developed app to allow racers build their portfolio, bookmark favourite events as well as track result of various races in clutter-free format. It also allows to read race reviews and avail exclusive discount coupons to promote running as an important sport of life.
Bakipa
Bakipa is, without a shred of doubt, the best baby, kids & maternity products app. It offers busy parents a convenient and quick way of purchasing a myriad of tested and products within a few quick clicks. Bakipa offers a platform for different products which range from toys, watches, and baby clothes to necessities for the maternity period. It's a platform which is designed to furnish the worldly needs while, at the same time, keeping parents as close to their kids as it's possible. This guarantees a warm and nurturing environment and atmosphere amongst them.
TFCS
We crafted this app for The Fashion Collective Singapore (TFCS), Singapore's first industry-driven network of professional beauty & fashion freelancers. TFCS app displays the portfolios of makeup artists, hair experts, photographers, illustrators, musicians, designers and copywriters and all other creative industry professionals.
Reverie
Based on the novel concept of encouraging Singaporeans to Live, Love and Lend Reverie is first digital Social Auction of Singapore developed with intention of building a cause-conscious community. Now it is easier as well as enjoyable to reflect your gratitude towards society by giving back in form of lifestyle products auction from which a considerable portion of profits is paid back to society.
Smash Path
Smashpath is designed to ensure a hassle free platform for traversing your own career path in your own style. Our PHP development team have ensured the web app is provided with features that can train employees with new skills and evolve these into an expertise. Smashpath is a complete career planning software solution suitable for multiple users to carry forward their career professionally and contribute towards companies growth.

Christopher Bridges
Law corporation Christopher Bridges expertise in all areas of Litigation, Arbitration, Business and Commercial Law to ensure justice prevails with you and around you

LetsBroad
In this project we have designed and developed a website and mobile application (iOS and Android) for LetsBroad which is a social app to share and broadcast videos, images, audios and much more. It is a dynamic new social media platform that gives users the ability to share and discover fun in their country or a vicinity of 3 kilometers (2 miles). Few highlighted features of app are who's near me, Group interaction, User's global and local rank etc.
Avalanche Studio
Avalanche Studio understand the pain of the patient who suffers from Brachial Plexus Injury or any other similar severe condition. The product is invented personally by the owner of Avalanche Studio after suffering from Brachial Plexus Injury. This product basically an Arm Sling will ease your pain by allowing your arm to be properly immobilized. It is a boon for those who are scared of body part amputation and continue with up and running lifestyle.
Hawker
In this project we have designed and developed iPhone and Android app for Hawker. It is a mobile app that let you have SHIOK local food delivered to your door. With Hawker app, you can browse, review, and have SHIOK local food next to your door.
Grouping
Grouping is a messaging app developed by us. It allows you to create rapid fast groups and start communication. Not only you can start communication, but you will be able to see past conversations of that group. In this app anyone can create a group and others can immediately start communicating on it without disclosing their mobile phone numbers.
Ready Coutour
Couturissimo aims at lessening the gap between couture and ready-to-wear by offering you couture ready collection from globally renowned couture designers. They are passionate about making the generally inaccessible world of high-end couture easily available and equally affordable.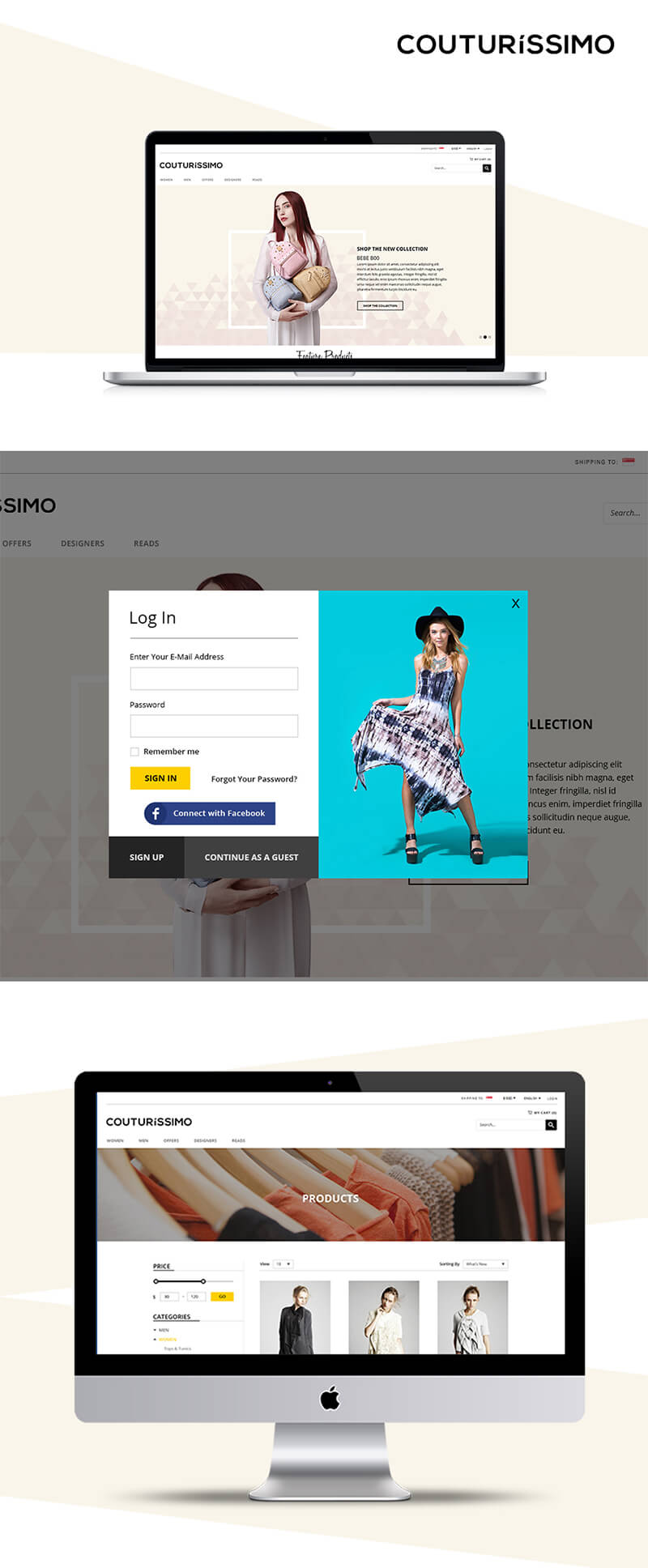 Charly Selection
Charly Selection believe in providing high-quality Italian handmade shoes online that reflect user sophistication. They are also expert in hand bags. This website is built on Prestashop. Their Free Shipping and Free Return Policy along with bespoke interface and minimalist design set it as an easily approachable option online.
Master Cuts
Master Cuts is an identity designed for an iPad app to manage the daily sales of a salon.
Elky
Elky an online web store, built on Magento eCommerce for Elkygroup Pte Ltd. Elky is the only one-stop  full solution for residential or commercial hardware manufacturer and wholesale distributor in top level products fit for all purpose demands regionally.
Solarmine
Solarmine offers a one stop solution to design, install and maintain your solar systems. It provides the tool to estimate how much electricity a household currently utilize and provide a solar estimate. With features like personalized quick quotes and return on investments graphing, it is an essential tool for the solar industry. We have designed Solarmine for desktop, android phone, iPhone and iPad.
Gunjan and Associates
Gunjan and Associates is the proprietorship firm founded by passionate architecture professionals 20 years ago. It has primary focus on delivering exclusively researched and quality design services as far as architecture, interior design, landscape, and urban design are concerned. Interestingly they are also lessening the gap between academic and profession by providing practical experience on live projects to build a sense of confidence within students.
Clinic Management
Clinic Management provides latest and safe clinical solution and information is basic idea of the site. The different and relevant aspect of this Clinic Management is it will be updated based on patient's records. It is a Codeigniter-MySQL based Hospital  Web App. Clinic Management approach will play important role in highlighting clinical development of upcoming years.
Prima Survey iPad App
The app was primarily developed to meet the requirement for Prima Group. The app developed was to conduct surveys against the food products prepared by Prima. The app allowed a selected set of panelists to come over and tasted the prepared food items and rank and rate them. These panelists were supposed to provide particulars that allowed the users to get registered and based on the particulars the data as per the items tasted was segregated and mixed and matched to generate reports for the application admin via a very robust and interactive backend admin console.
The apps USPs were its seamless user experience and the support through a very simple, clean and robust web panel and web services backbone with intuitive layouts and graphical representation of the data acquired.
Rivid
Rivid is an iOS and Android app that believe in all time tutoring. It provide seamless online platform for freelance teachers and students to earn and learn respectively. Rivid provides an education platform 24*7 to choose time that suits user best. It connects it members with their online community for highest possible visibility of tutors. It provides timely notifications to sync everyone and achieve more together.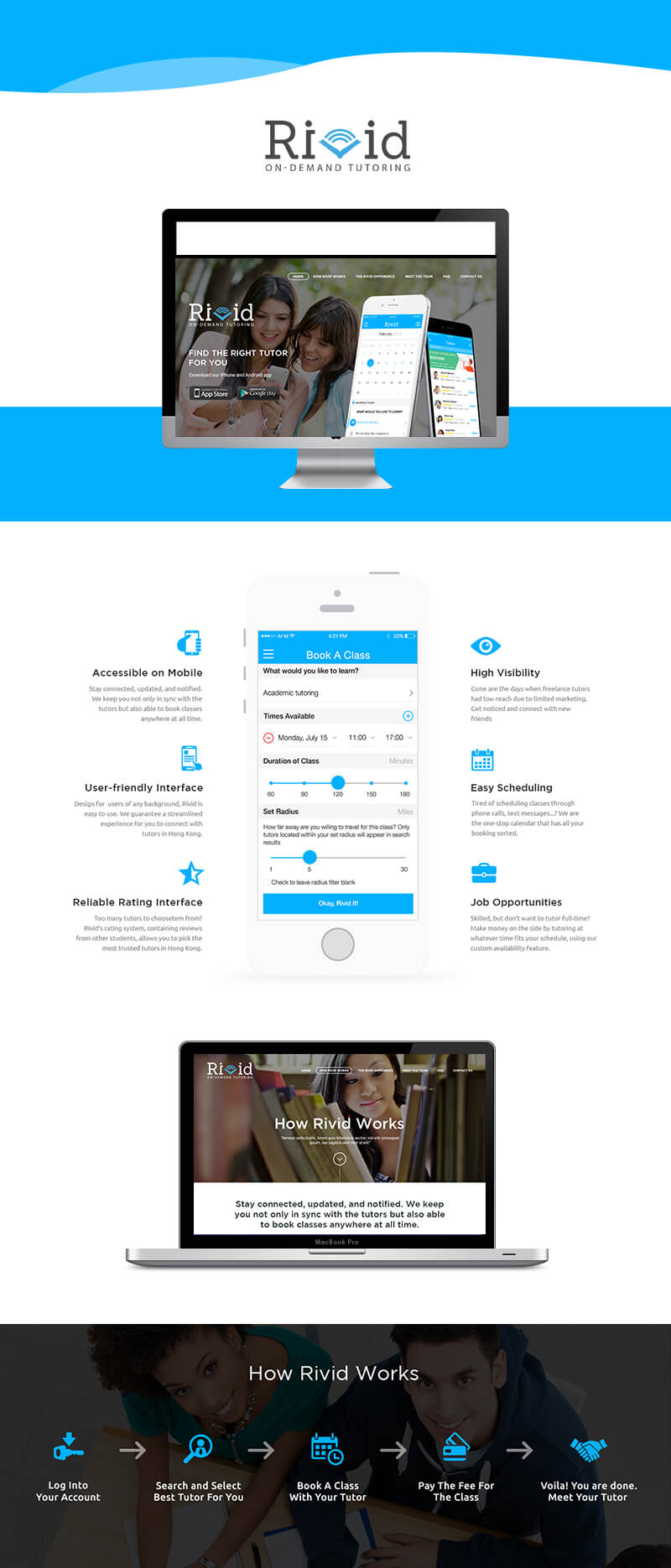 EPTC-IEEE
The 18th Electronics Packaging Technology Conference is an International event organized by the IEEE to provide latest technical insights in design, manufacturing and operation areas of Electronic packaging. EPTC IEEE is Laravel based Web Application. EPTC 2016 will expand experts knowledge with technical sessions, short courses/ forums, an exhibition, social and networking activities regarding Electronics Packaging Technology.
Print Social Book
This project includes creating a website that facilitates the users to turn his Facebook timeline into a Social Book. This application converts the Facebook timeline, posts, statuses, images etc. into a social print book where users can pull the information for a specified date range.
iOrder App
iOrder is app for all busy person who could not spare time to cook themselves. iOrder deliver hygienic, safe food prepared by certified cooks at just a click . It is an iOS application. They offer food in multiple cuisine to ensure no one remains hungry.

Room Service
Online Food Ordering App that helps you search restaurant and order food online.
Vivah Creations
Vivah Creations is matrimony platform that provide perfect match based on rigorous refining from thousands of users based on various parameters collectively or individually. It is a Laravel based Web application .They provide proper and secure Email conversation mode and personal details are shared after mutual consent. A bunch of success stories speaks for their sincere efforts towards pair matching.
Qweue: A Social Hub
The app was designed and developed against a concept of providing people with with similar interest to join in and make social hubs. Users can search other users based on the interest groups, befriended and can share knowledge and thoughts over an intuitive chat interface. The app allows the users to create a friend circle and also increase the circle to form a hub of people by connecting to mutual friends. The app works in seamlessly with the phonebook and allows users to add others to their phonebook vi mens of in-app services.
Globaltix
GLOBALTIX is a team of travel enthusiasts who are determined to ensure travel is always easy and hassle free. We developed their web app to let travellers quickly book tickets and recieve QR code so they can kick-start their journey. Our WordPress developer efforts helped them influnce and partner with world's leading attractions and travel partners.
INSIGHT
Our Project Insight is one stop shop for cloud procurement and management which is powered by Cloud Select (A Cloud FX Product). It allows you to create your on-demand enterprise on high performing global infrastructure. Insight provides you the flexibility to pick where you want to host your virtual data center, with the freedom to choose any public cloud provider. we help businesses run smarter.

SAS
Strategic Asset Survey is developed with focus on improving facilities and regaining comfort in your building or in an apartment by collecting community data in logical manner. SAS is an iPad based Application that allows user to gather data and extract information that is vital for decision making. It is basically synchronizing knowledge and data integrity to provide productivity at affordable price.
Darshan & Teo LLP
This project includes designing a website for Darshan & Teo LLP. It is a law firm in Singapore that provides legal advices on the various areas of law such as criminal, commercial, debt recovery etc. Darshan & Teo LLP boasts an extensive range of local and international clientele ranging from public listed entities to discerning individuals.
Digital Assessment Disk
Digital Assessment Disk offers comprehensive assessment platform for analyzing data in quick and strategic manner under Human resource,Sports, Academic and others such background. DAD is an iPad Application. Their robust design enable smooth handling of large digits hence  their analytics program is speedy and convenient. It has made assessment concise, crisp and accurate.
Patron
In this project we have designed and developed a website for Patron Group. A Patron is a company that seeks to provide its affluent clientele with unparalleled experiences that transcend the current perception of property management. It offers solutions across the board ranging from property investors, homeowners, boutique real estate developers and corporate clients.
MiceHQ
MiceHQ is a website which provides a common platform to see venues services or events associated with them. Here user can sign up to add their business here and increase the visibility of their business among the masses. We have developed this website in codeignitor frame work of php.
Soclothed
Soclothed is PHP - MYSQL based application that let women's to sell their extra cloth that are no more in use to earn their share. It also is an opportunity to buy clothes . This idea of sharing is based on reasonable price structure to ensure no lady is left out. 

Regency Legal LLP
A boutique law firm Regency Legal LLP is based in Singapore providing personalised and legal solution in matters like civil, family, personal, criminal and etc.
NU Factor
NuFACTOR support patients by providing FDA-approved speciality products since 1995 and also support multiple programs realted to bleeding disorder and immune-mediated conditions
Walky Talky
Core PHP based WalkieTalkie website provides an entire range of walkie talkie services like traditional point-to-point to Tetra, DMR and IDEN with their accessories online to make communication Instant and convenient. They deliver only quality products and services that are customised up to their client needs.

MayOffice
May Office is one of the most prominent and noticeable manufacturer and supplier of office chair products. We tailored this website by using Magento CMS. Along with manufacturing office chairs May Office also produce other office equipment. Their main focus is to help companies to build and establish a highly functional working environment.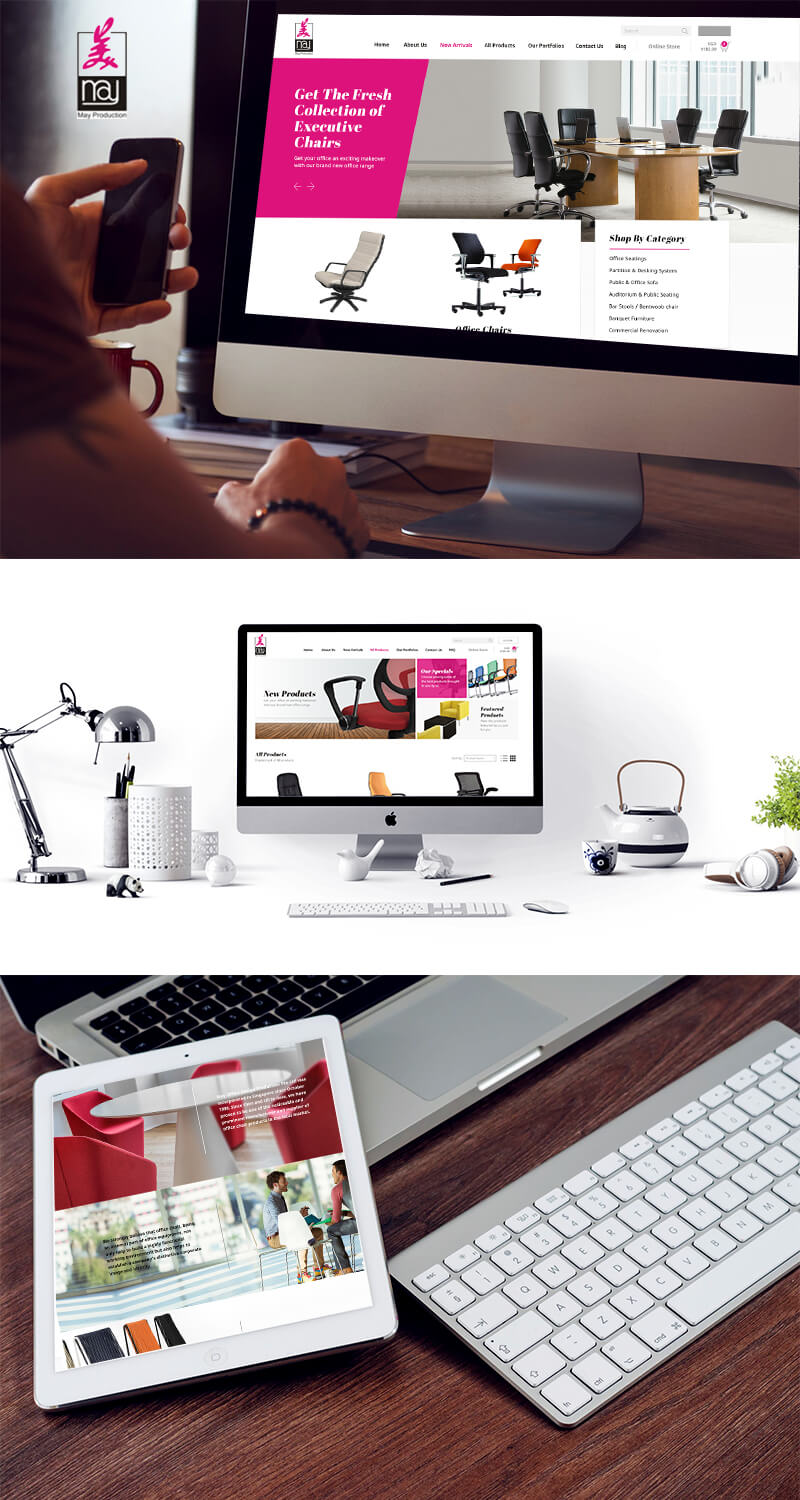 Nufactor
Nu-Factor is a Prestashop based application based on concept of learn from ,nature extract from nature. It provides safe and certified Supplements to ensure health is in prime condition which is utmost importance to experience good quality of life.
Got a new project? Drop us a line.