Ajax
Our AJAX expert can bind everything with JavaScript and specialize in custom AJAX programming to create advanced AJAX based web applications.
Olympus Cameras and Lenses
Magento based e-commerce portals provisioning online product selling for Olympus Singapore, Olympus Malaysia & Olympus Thailand including Cameras, Lenses, Binoculars, Audio equipment and related accessories. A one-stop solution for consumers to review & purchase the products of their interest seamlessly via the integrated payment gateways.
uParcel - your easiest way to deliver
uParcel is a technological advanced mobile app and web platform offering consumers an ease to book parcel delivery booking service within seconds and ensures the delivery been made by a secured and trusted delivery agent.
Bakipa - The world's best baby, kids and maternity products
Bakipa is the world's best baby, kids & maternity products apps offering busy parents an ease to purchase from an array of latest and tested products within few simple clicks. Bakipa provides a platform for products ranging from toys,watches,baby clothes to maternity stuff. It is basically a platform that apart from furnishing the worldly needs it keep parents closer to kids ensuring a warm and wonderful atmosphere among them.
Shoptiq Singtel
Shoptiq is Singtel owned e-commerce solution dedicated to small scale business. Our developers have leveraged the Drupal technology to ensure Shoptiq is useful for its client to smartly reach bigger user pool. This e-commerce application is a complete eco-system to help users choose and integrate appropriate technology for maximum market exposure and even better brand expansion.

uParcel
uParcel is easy to operate smartphone-enabled parcel delivery service provider with affordable price structure and let you locate your parcel with GPS enabled tracking system. The web application is developed using Core PHP. Their modern management skill enabled them providing customised logistics solution that is are equally suitable for both small packages or large cargo. They offer you to be a freelancer agent and earn.

FNA Group
FNA group international is an established authority in the distribution and retailing of chocolate and confectionery in the Asia Pacific realm. Our developers have put their CodeIgniter expertise to design a web application that is in strict accordance with their service. Our designers have followed industry standards to highlight their core values using amazingly eye-pleasing color pattern. It is a clutter-free website with minimum content yet all business aspects being covered completely.

Smash Path
Smashpath is designed to ensure a hassle free platform for traversing your own career path in your own style. Our PHP development team have ensured the web app is provided with features that can train employees with new skills and evolve these into an expertise. Smashpath is a complete career planning software solution suitable for multiple users to carry forward their career professionally and contribute towards companies growth.

Fudster
Fudster Mobile App engage its audience with Discover Share Expand and Follow food recipes. Our designer has opted food friendly app development theme to please the food-loving community. During development, we have ensured that users can smoothly browse through recipes based on behalf of a huge number of categories and keywords and feel connected with foodie community. It allows the user to discover trending recipes and share trending as well your own recipes with your foodie friends, This app will be useful in expanding your culinary art, improvising existing recipes and follow Fudster buddies. It is all about fun with food. Fudster app enables food lover community to experience and explores various flavors of food under multiple cuisines.
Caraters
Caraters, world leading diamond dealers provides precious diamond for precious people of your life. These diamonds are certified on quality and flawlessly handcrafted in 18K white gold to define the dazzle. We have developed a web app to highlight Characters efforts by ensuring smooth navigation and an interactive product detail section. Our developers ensured to develop and deploy Characters as an Android and iOS app.

Scissors Paper Stone
SPS is kid friendly hair salon in singapore that believes every kids deserve fun. They cater to children's needs with handling your kids while doing their hair. We designed a website with a kid friendly UI to appeal users and an iPad application using which parents can become member and quickly collect queue number for kids haircut. They are aware that doing a kid hair is no easy job therefore, always ensure to engage your little one with engaging iPad games and movies so the haircut is a pleasant experience.

Bakipa
Bakipa is an excellent solution for parents who are too busy to shop for their kids. We have designed a CodeIgniter based e-commerce web application in order to easily demonstrate various products under appropriate category so that parents have quick access to quality products and will be redirected to interactive product page for finer details of products. Our app developers ensured parents can do the purchase even on the go with app on behalf of hassle free navigation. Their product range from toys, watches, and baby clothes to necessities for the maternity period.
EatBack
EatBack is iOS based application for food lovers. It searches and display best cashback offers on restaurant meals in Singapore. It notifies you about restaurants giving cashback offers on their meal. 
Rivid
Rivid is an iOS and Android app that believe in all time tutoring. It provide seamless online platform for freelance teachers and students to earn and learn respectively. Rivid provides an education platform 24*7 to choose time that suits user best. It connects it members with their online community for highest possible visibility of tutors. It provides timely notifications to sync everyone and achieve more together.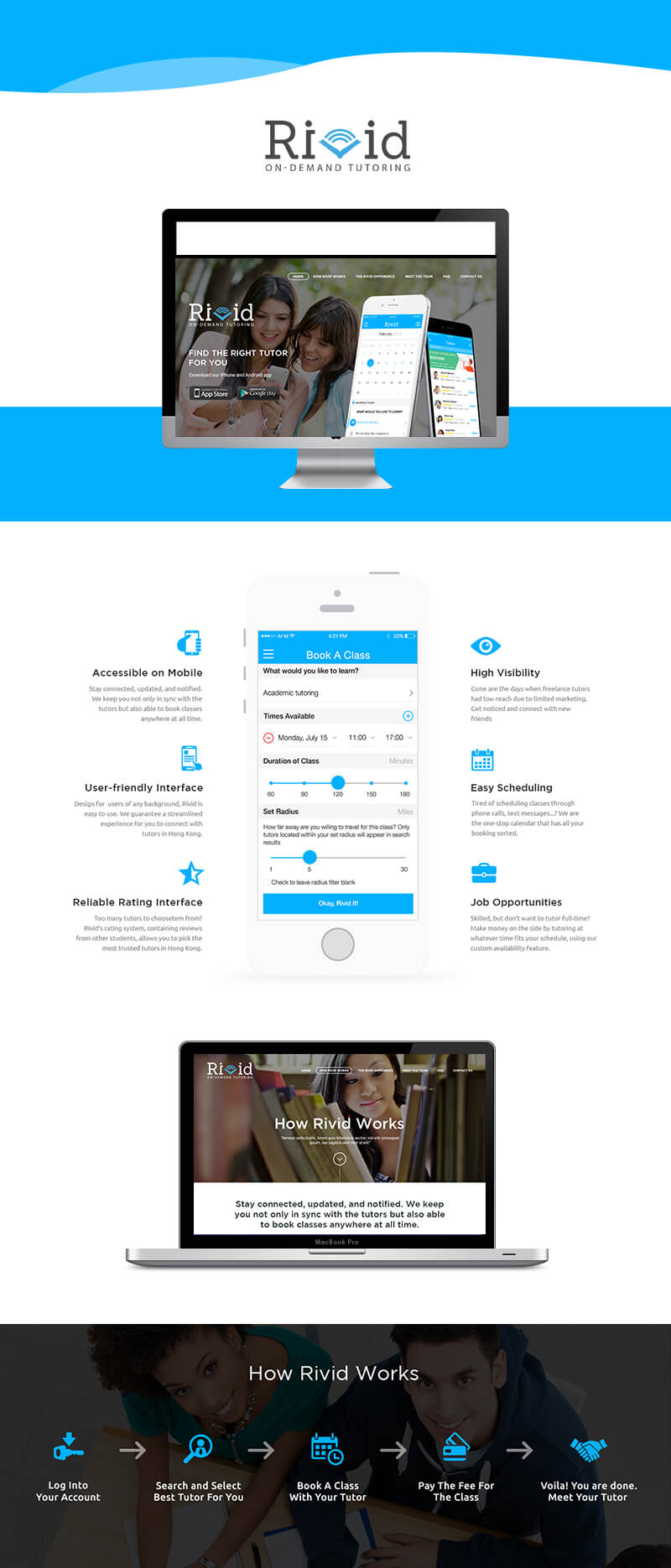 Hawker
In this project we have designed and developed iPhone and Android app for Hawker. It is a mobile app that let you have SHIOK local food delivered to your door. With Hawker app, you can browse, review, and have SHIOK local food next to your door.
Lets Bridge
LetsBridge is a location-based Android app. They believe people with close areas of interest should meet to spend quality time. Our developers have provided smart keyword search to narrow done searching to meaningful and useful options. Similar interest Boost up intimacy and leads to a strong healthy relationship. During development, privacy is taken care of with inbuilt messenger of the app also they promise not to post any content on your social media. Their motive was further boosted by our graphic designers who identified and designed their logo to connect them with correct users.

GIVO Donner and Charity App
A great platform for charity enthusiasts to connect with their charity cause and others who share the similar belief. Our app developer implemented latest security measure to safeguard donations done via an app from online threats as well as we have enabled donation tracking for users. We have also provided the functionality for users to share the photos and stories with the followers and donors for motivating other to be a part of charity and make this world equally delightful for all.

Green Planner
ENVIS-NBRI - Green Planner Android app developed by CSIR-NBRI (National Botanical Research Institute), Lucknow. This mobile app contains database about plants that are useful in mitigating air pollution. Our android developers have ensured a simple and appealing theme along with intuitive navigation to let user easily explore the app. The interesting feature is it also contains the distribution sites of plants along with suitable planting sites and with other ecological benefits associated with it.

Unibly
This app is a platform for college students and alumni to be connected as well as share snaps with your friends. Our app developers have ensured users can create an exciting event that is secured with password and can be shared with selected peoples. Advanced filter and chat notification on all screen option is included to give the user a unique and smooth experience. Our graphic designers have embodied their concept in form of logo to impress the user with first quick glance.
Christopher Bridges
Christopher Bridges strength lies in providing full scale law service with its expertise in all areas of Litigation, Arbitration, Business and Commercial Law. Their area of involvement include Accidents/Personal Injury, Criminal Law, Commercial Law, and more. They cater to wide range of audience by providing solution in english, malay and mandarin. The web application is developed on Core PHP and designed with best user experience

Vivah Creations
Vivah Creations is matrimony platform that provide perfect match based on rigorous refining from thousands of users based on various parameters collectively or individually. It is a Laravel based Web application .They provide proper and secure Email conversation mode and personal details are shared after mutual consent. A bunch of success stories speaks for their sincere efforts towards pair matching.
TFCS
We crafted this app for The Fashion Collective Singapore (TFCS), Singapore's first industry-driven network of professional beauty & fashion freelancers. TFCS app displays the portfolios of makeup artists, hair experts, photographers, illustrators, musicians, designers and copywriters and all other creative industry professionals.
MayOffice
May Office is one of the most prominent and noticeable manufacturer and supplier of office chair products. We tailored this website by using Magento CMS. Along with manufacturing office chairs, May Office also produce other office equipment. Their main focus is to help companies to build and establish a highly functional working environment.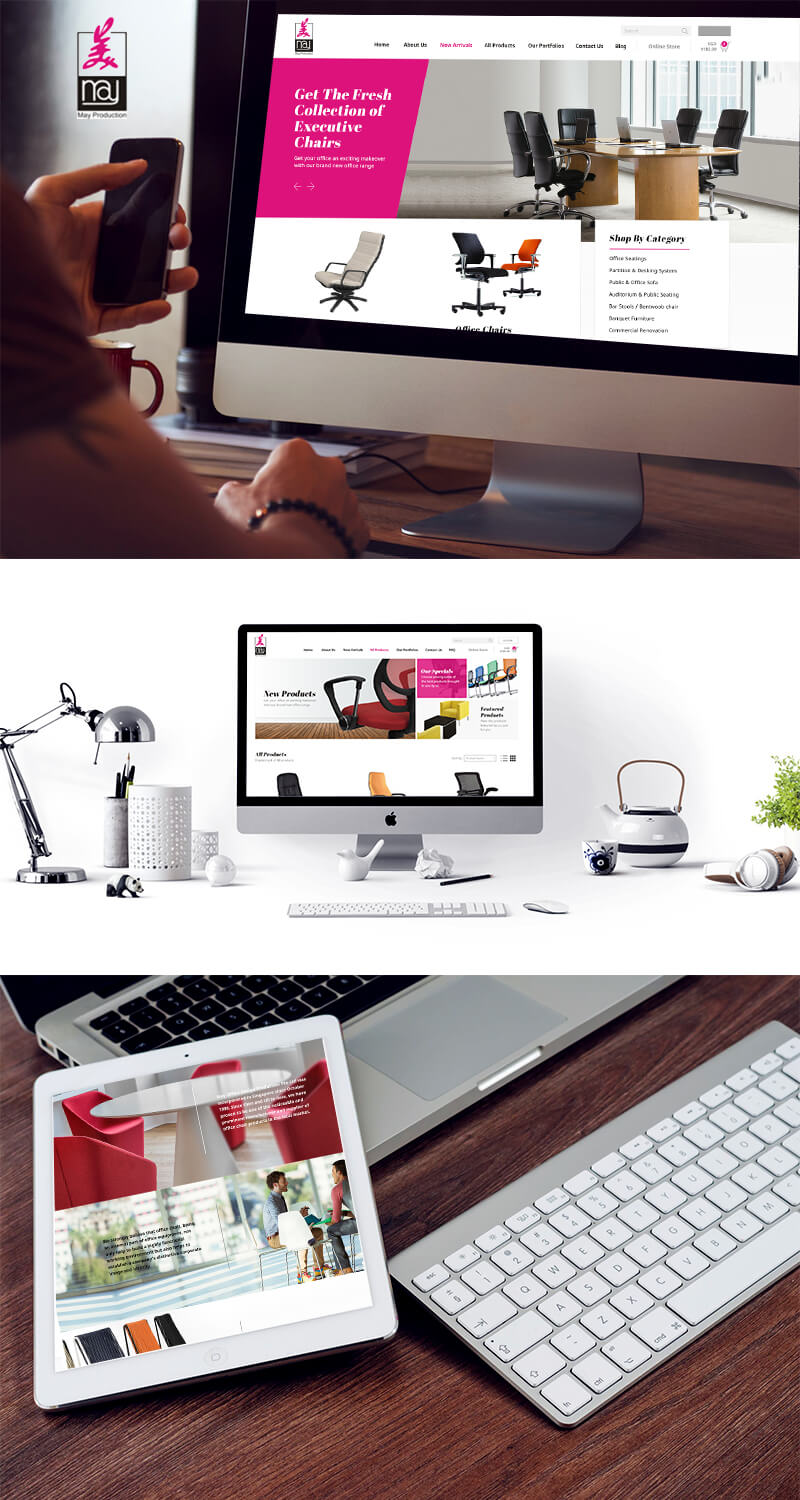 Click Projects
CLICK is Singapore based popular brand for responsible for providing modern modular building at affordable rates. This website is built on the latest version of Wordpress CMS. The CLICK offers to integrate cutting-edge architectural design & methodologies to create beautiful buildings.Their logo reflects their intention and passion towards the modular apartment building. They have sufficient information on their print media to give their brand an extended reach and maximum exposure.ure.

iOrder App
iOrder is app for all busy person who could not spare time to cook themselves. iOrder deliver hygienic, safe food prepared by certified cooks at just a click . It is an iOS application. They offer food in multiple cuisine to ensure no one remains hungry.

Room Service
Online Food Ordering App that helps you search restaurant and order food online.
Got a new project? Drop us a line.