jQuery
A team of jQuery developers with full control over HTML events, animations and various interactions on a web page to deliver a dynamic experience while user browse a website.
Olympus Cameras and Lenses
Magento based e-commerce portals provisioning online product selling for Olympus Singapore, Olympus Malaysia & Olympus Thailand including Cameras, Lenses, Binoculars, Audio equipment and related accessories. A one-stop solution for consumers to review & purchase the products of their interest seamlessly via the integrated payment gateways.
uParcel - your easiest way to deliver
uParcel is a technological advanced mobile app and web platform offering consumers an ease to book parcel delivery booking service within seconds and ensures the delivery been made by a secured and trusted delivery agent.
Bakipa - The world's best baby, kids and maternity products
Bakipa is the world's best baby, kids & maternity products apps offering busy parents an ease to purchase from an array of latest and tested products within few simple clicks. Bakipa provides a platform for products ranging from toys,watches,baby clothes to maternity stuff. It is basically a platform that apart from furnishing the worldly needs it keep parents closer to kids ensuring a warm and wonderful atmosphere among them.
Shoptiq Singtel
Shoptiq is Singtel owned e-commerce solution dedicated to small scale business. Our developers have leveraged the Drupal technology to ensure Shoptiq is useful for its client to smartly reach bigger user pool. This e-commerce application is a complete eco-system to help users choose and integrate appropriate technology for maximum market exposure and even better brand expansion.

uParcel
uParcel is easy to operate smartphone-enabled parcel delivery service provider with affordable price structure and let you locate your parcel with GPS enabled tracking system. The web application is developed using Core PHP. Their modern management skill enabled them providing customised logistics solution that is are equally suitable for both small packages or large cargo. They offer you to be a freelancer agent and earn. 

FNA Group
FNA group international is an established authority in the distribution and retailing of chocolate and confectionery in the Asia Pacific realm. Our developers have put their CodeIgniter expertise to design a web application that is in strict accordance with their service. Our designers have followed industry standards to highlight their core values using amazingly eye-pleasing color pattern. It is a clutter-free website with minimum content yet all business aspects being covered completely.

Smash Path
Smashpath is designed to ensure a hassle free platform for traversing your own career path in your own style. Our PHP development team have ensured the web app is provided with features that can train employees with new skills and evolve these into an expertise. Smashpath is a complete career planning software solution suitable for multiple users to carry forward their career professionally and contribute towards companies growth.

Fudster
Fudster Mobile App engage its audience with Discover Share Expand and Follow food recipes. Our designer has opted food friendly app development theme to please the food-loving community. During development, we have ensured that users can smoothly browse through recipes based on behalf of a huge number of categories and keywords and feel connected with foodie community. It allows the user to discover trending recipes and share trending as well your own recipes with your foodie friends, This app will be useful in expanding your culinary art, improvising existing recipes and follow Fudster buddies. It is all about fun with food. Fudster app enables food lover community to experience and explores various flavors of food under multiple cuisines.
JustRaceLah
JustRaceLah is an Andriod and iOS App exclusively designed for health enthusiats especially for runners in Asia - Pacific that provides a huge database of nearly 3000 race events. Our designers ensured to provide race ready UI to motivate user into participating in race events. We have developed app to allow racers build their portfolio, bookmark favourite events as well as track result of various races in clutter-free format. It also allows to read race reviews and avail exclusive discount coupons to promote running as an important sport of life.
Caraters
Caraters, world leading diamond dealers provides precious diamond for precious people of your life. These diamonds are certified on quality and flawlessly handcrafted in 18K white gold to define the dazzle. We have developed web app to highlight Caraters efforts by ensuring smooth navigation and an interactive product detail section. Diamonds are available in all appealing shapes. Caraters is also available as an android an iOS app.

Scissors Paper Stone
Scissors Paper Stone is a team of professionals who specialize in kids-oriented businesses and services such as kid's haircut, catering to children's needs with much expertise and experience. We have designed both an app and website for Scissors Paper Stone.

Bakipa
Bakipa is, without a shred of doubt, the best baby, kids & maternity products app. It offers busy parents a convenient and quick way of purchasing a myriad of tested and products within a few quick clicks. Bakipa offers a platform for different products which range from toys, watches, and baby clothes to necessities for the maternity period. It's a platform which is designed to furnish the worldly needs while, at the same time, keeping parents as close to their kids as it's possible. This guarantees a warm and nurturing environment and atmosphere amongst them.
BZR
This application is specifically to cater enable halal food lovers find halal food around them quickly. Our developers have ensured easy four step hassle free process to get your halal food delivered comfortably till your doorsteps. Secure and convenient e-payment option makes this app even more delightful. It is designed in a way to connect users with their favvy chefs and explore more.
Way FengShui
Way FengShui Almanac App is dedicated to reducing workplace and business risks and maintaining your peace of mind. We have desinged the 2017 edition of the app with Way FengShui appropriate theme and an appealing User Interface to let users find all the information on behalf of clutter-free format. Our developers ensured to fit every Way FengShui and Chinese astrological calculations related detail as well as developed an in-app digital Luo pan to easily locate directions for home orientation.

EatBack
EatBack is iOS based application for food lovers. It searches and display best cashback offers on restaurant meals in Singapore. It notifies you about restaurants giving cashback offers on their meal. 
Rivid
Rivid is an iOS and Android app that believe in all time tutoring. It provide seamless online platform for freelance teachers and students to earn and learn respectively. Rivid provides an education platform 24*7 to choose time that suits user best. It connects it members with their online community for highest possible visibility of tutors. It provides timely notifications to sync everyone and achieve more together.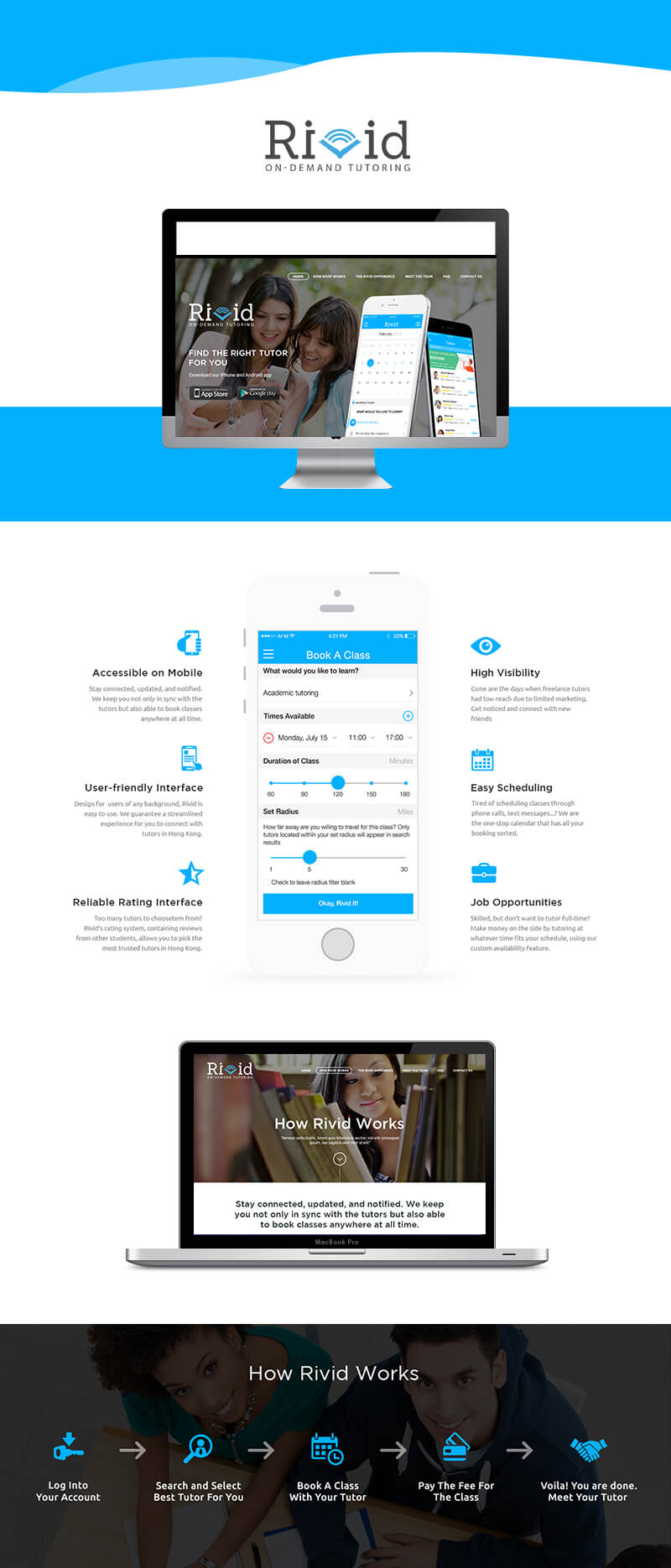 Hawker
In this project we have designed and developed iPhone and Android app for Hawker. It is a mobile app that let you have SHIOK local food delivered to your door. With Hawker app, you can browse, review, and have SHIOK local food next to your door.
Bridge
LetsBridge is a location based android app. They believe people with close areas of interest should meet to spend quality time. They provide smart keyword search to narrow done searching to meaningful options. Similar interest Boost up intimacy and leads to strong healthy relationship. Privacy is taken care of with in-built messenger of the app also they promise not to post any content on your social media. 

Green Planner
It is based on the genuine concept of mitigating the air pollution. Our developers have ensured that app contains a well-researched database of plants that are powerful air pollution deterrents. Biological as well as local both names are present to ensure none of our users miss out on important information. We have also provided a suitable location where these plants can minimize the air pollution in a maximum manner.

Solarmine
Solarmine offers a one stop solution to design, install and maintain your solar systems. It provides the tool to estimate how much electricity a household currently utilize and provide a solar estimate. With features like personalized quick quotes and return on investments graphing, it is an essential tool for the solar industry. We have designed Solarmine for desktop, android phone, iPhone and iPad.
Unibly
A social networking application where people having the same area of interest can get in contact with each other and can perform socializing activities.
Master Cuts
Master Cuts is an identity designed for an iPad app to manage the daily sales of a salon.
TFCS
We crafted this app for The Fashion Collective Singapore (TFCS), Singapore's first industry-driven network of professional beauty & fashion freelancers. TFCS app displays the portfolios of makeup artists, hair experts, photographers, illustrators, musicians, designers and copywriters and all other creative industry professionals.
FitSys
To evaluate the health of individual employee we created FitSys. Its based on the records, certain medical factors like weight, height, blood pressure and pulse rate.
MayOffice
May Office is one of the most prominent and noticeable manufacturer and supplier of office chair products. We tailored this website by using Magento CMS. Along with manufacturing office chairs May Office also produce other office equipment. Their main focus is to help companies to build and establish a highly functional working environment.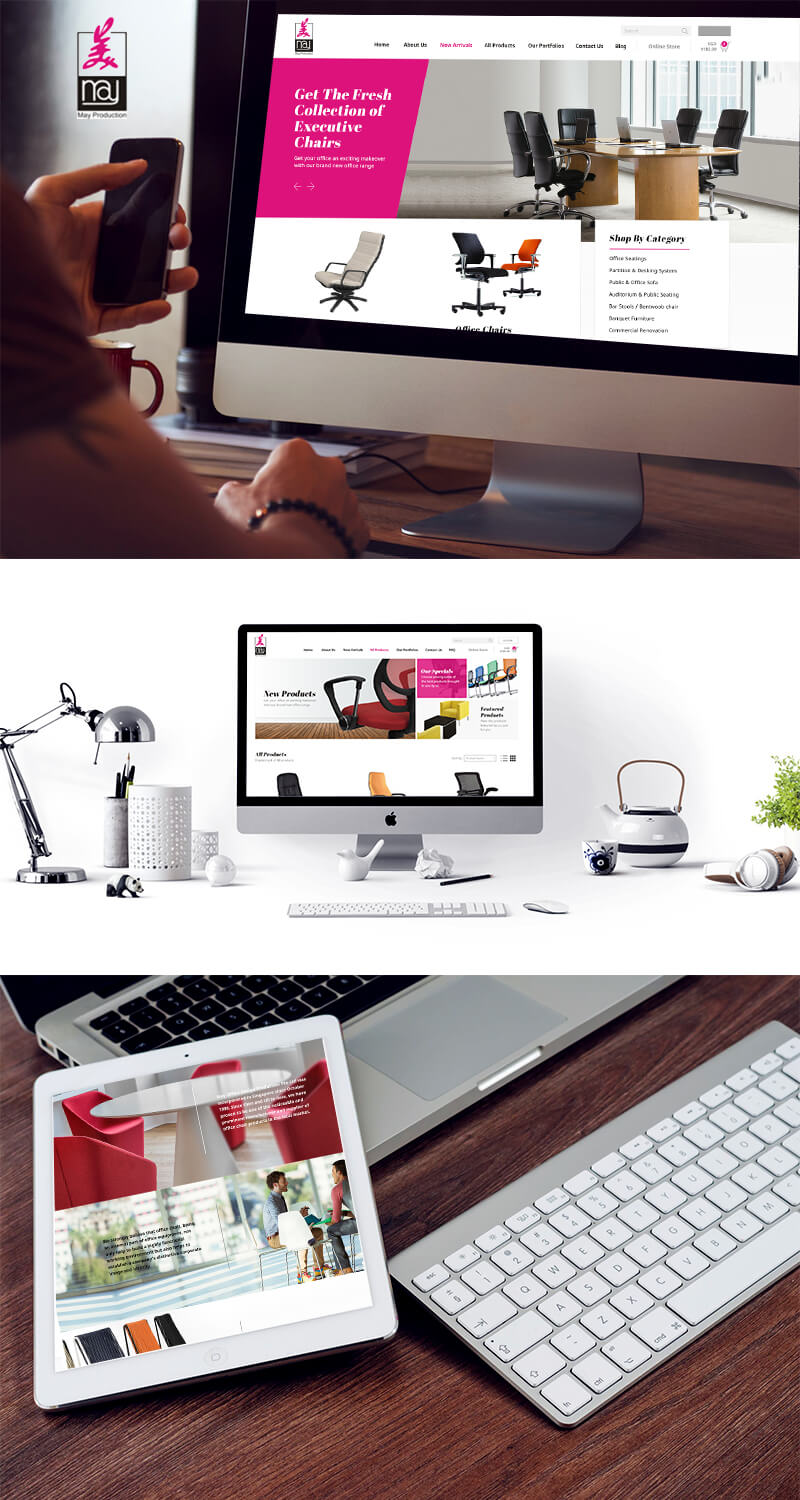 Prima Survey iPad App
The app was primarily developed to meet the requirement for Prima Group. The app developed was to conduct surveys against the food products prepared by Prima. The app allowed a selected set of panelists to come over and tasted the prepared food items and rank and rate them. These panelists were supposed to provide particulars that allowed the users to get registered and based on the particulars the data as per the items tasted was segregated and mixed and matched to generate reports for the application admin via a very robust and interactive backend admin console.
The apps USPs were its seamless user experience and the support through a very simple, clean and robust web panel and web services backbone with intuitive layouts and graphical representation of the data acquired.
iOrder App
iOrder is app for all busy person who could not spare time to cook themselves. iOrder deliver hygienic, safe food prepared by certified cooks at just a click . It is an iOS application. They offer food in multiple cuisine to ensure no one remains hungry.

Room Service
Online Food Ordering App that helps you search restaurant and order food online.
Qweue: A Social Hub
The app was designed and developed against a concept of providing people with with similar interest to join in and make social hubs. Users can search other users based on the interest groups, befriended and can share knowledge and thoughts over an intuitive chat interface. The app allows the users to create a friend circle and also increase the circle to form a hub of people by connecting to mutual friends. The app works in seamlessly with the phonebook and allows users to add others to their phonebook vi mens of in-app services.
SAS
Strategic Asset Survey is developed with focus on improving facilities and regaining comfort in your building or in an apartment by collecting community data in logical manner. SAS is an iPad based Application that allows user to gather data and extract information that is vital for decision making. It is basically synchronizing knowledge and data integrity to provide productivity at affordable price.
LetsBroad
In this project we have designed and developed a website and mobile application (iOS and Android) for LetsBroad which is a social app to share and broadcast videos, images, audios and much more. It is a dynamic new social media platform that gives users the ability to share and discover fun in their country or a vicinity of 3 kilometers (2 miles). Few highlighted features of app are who's near me, Group interaction, User's global and local rank etc.
Got a new project? Drop us a line.