Scan any domain to check its Cybersecurity Rating
Trust Dom is an all-in-one Cybersecurity Ratings platform, giving you the ability to scan, assess and monitor any domain's Cybersecurity ratings. Our ratings are calculated in real-time and make use of passive and non-intrusive probes to collect data on a domain's website, email and data privacy infrastructure. Users can also download Cybersecurity and Compliance appraisal reports for their domain and use these reports to solve any Cybersecurity issues. In addition, the platform offers Deepweb search tools, email breach checkers and compliance tools to help anyone meet their domain's Cybersecurity requirements.

Way Ahead
A close interaction with Trust Dom platform which offers Cyber security to the website based on 5 Risk zones then scan and generate report on major parameters:
Email security
Website Security
Compromised Infrastructure
Vulnerability Infrastructure
Data Privacy

The domain Rating will be done on these below mentioned 5 rating pointers:
A- Excellent
B-Good
C-Average
D-Poor
E-Critical

Trust Dom approached Singsys to develop a website for them which will help each individual to have hands-on experience in checking their website security through this portal.
Singsys developed this portal on Laravel, HTML5, MySQL. It has been a remarkable experience for Singsys team to closely liaise with client side and different appointed resources during the projects. We have been working on it for the past 5+ months and a long way to go together in this journey.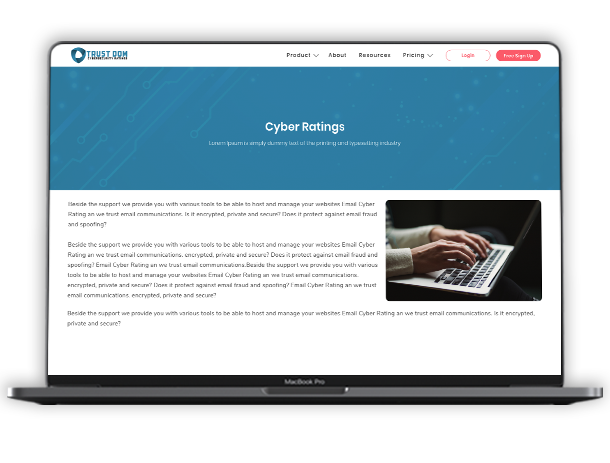 Technologies which were used
Trust Dom's Cybersecurity Ratings
Trust Dom's Cybersecurity Ratings are generated using our in-house algorithms that calculate and process returned data from probes that scan and patrol a domain's surface entry points. Our 60+ probes operate passively and are non-intrusive, typically having no effect on domain performance during a scan. The data returned from our probes are assigned scores and used to produce Cybersecurity Ratings. This allows a domain to be quantifiably and objectively assessed for Cybersecurity risk across email, website and data privacy infrastructure.

The company offers various Services like:
C-Suite Excellence
Deepweb, Breach & Compliance Tool Box
Real Time Cyber Security Ratings
Cyber security Appraisal Report
Continuous Domain Monitoring
Our Cybersecurity Ratings range from 0 to 100 can be classified into 5 grades, ranging from an A to E grade, reflecting how many of Trust Dom's security assessment a domain been passed.
Domains with higher Cybersecurity ratings reflect less threat from vulnerabilities within the infrastructure assessed and can be deemed more trustworthy. Domains with lower ratings indicate the need for Cybersecurity to be improved and may pose a possible threat to their immediate and external environments.
Within a Domain's Overall Cybersecurity rating, you can further drill down into rating results by Risk Zones. Risk Zones are assessed across five key areas of Email Security, Website Security, Compromised Infrastructure, Vulnerable Infrastructure and Data Privacy.
Process: We Proceed Professionally
According to the client's prerequisite, we developed a site for facilitating the process for checking the cybersecurity ratings for the websites based on the 5 Risk zones for the domain security that was planned to be developed by leveraging our expertise in Laravel.
The Trust Dom will help the user to know how much his website is secured based on 5 risk zone parameters. Also, the user will only get one scan to check the domain security and another great feature is that the user can check on what overall factors his website is getting a pass and fail to view it in detail the user has to take a subscription plan which will have a usage timeline of 1 year. Under the paid subscription, the user will get enlisted premium services which are mentioned below:
Deep Web Data Search- Here, The Trust Dom will offer multiple search and discover modules to identify company confidential data leaks on the internet webspace. It will help the users to search the publicly available documents on various websites, shared Google drives, source codes & passwords in software repositories over the internet.
Email breach - Lets the user search from their live database, to see if the user's company domain has been listed anywhere on the webspace. If in any case it has been listed, then the user can take adequate action efforts instantaneously towards the vulnerability and integrity of his email database.
The service which we offered to Trust Dom ensured it with a successful launch of an idea right from the design stage till the final deployment of the project and support thereafter.
Graphic Mock up Design
Laravel Web application Development
Admin Panel for the client
AWS Support
Paid API Integrations
Testing and Quality Check by certified professionals
Server Architecture Proposal
Post Deployment Support and Maintenance
Not to forget, Under the supreme guidance of PROJECT MANAGER, the website was developed within the given time frame.
Work For Home challenges and how we overcome the same
In the initial days during lockdown we faced communication problems which became a major issue. But we overcome it with several effective and flexible tools offering smooth communication options like- Google Meet & Skype. It kept us motivated and connected.
Without the presence of a supervisor, many employees find it a challenge to maintain their work productivity. So, we kept a daily E-meet morning catch-up where we discussed the priority of the task as suggested by the supervisor and after completing the task the reporting of the task and update on each step completion was regularly given to the Team Leader to maintain a clear communication and better understanding of the project.
There was unplugging after work hours due to changes mentioned by the client later. So, to handle the same we created an achievable 'to-do' list of work and shared it with clients on a daily basis at the early start of the day and kept updating once we completed any task, for their review. It saved our time and energy.

We came out strong and more connected after lockdown. We surpassed every challenge and stood strong together.
Few challenges We faced, but we overcame with our technical expertise.
User experience is very important for us and with the over saturation of the market, users know what they like and what they don't, so we have designed the website in a way that is user-friendly.
Speed was incredibly important for us on the website because it will have loads of traffic, so we kept the website speed in mind on priority to load faster.
To implement some of the major APIs We have to find the relevant API's and then purchase them and use them accordingly on the website to give a smooth functional feel to the user.
Getting the API versioning done for every user coming on site and getting his website rating checked
We have to code in a way that we need to maintain the security of the data of each user's website so that it should be safe within us.
The APIs available in the Web portals all have different standards regarding stability, reliability, and quality; not all are equally safe, and in some cases a few may become gateways for hackers.
At some places, we have used the Linux Commands as well. Because of those places, the Laravel codes were not able to be incorporated.
Developers pushed technical boundaries and ensured smooth integration of API's within the Trust-Dom Website.

Let's Connect!
Together, we'll scale milestones for your next business idea.