COLLATE is an on-demand household service booking app.
The COVID-19 pandemic had a significant impact on the service industry causing unprecedented disruptions to economies and service markets, including for workers and enterprises in the service offering sector.
As per the change in the lives of people post COVID. COLLATE has come up with a unique concept where a user can book on-demand household services through the booking app which is a safer means during the current pandemic.
The portal will help the users in hiring reliable merchants and arranging for appointments with the service providers. This platform will connect homeowners, tenants, property agents and household service providers, supporting them to manage their household chores and to transition seamlessly from one home to another.
Few major features of application which every user/merchant can consider using from now onwards:
The Only App You'll Ever Need For Household Services - From Telecommunications providers to Laundry merchants, we have you covered.
Hire Trusted Merchants With A Peace Of Mind - Make Informed Decisions And Hire The Best At Fair Prices.
On-demand Appointment Booking System - Appointments Can Be Made Or Rescheduled With A Few Simple Clicks.
In-app Communication With Our Merchants - Have Our Professionals Answer Any Queries Prior To Your Appointment.
Best Platform For Merchants To Reach Out To New Customers - Leverage On Our Platform To Expand Your Customer Base.
Singsys developed the COLLATE mobile apps (Android & iOS) on React Native technology.
It has been a tremendous experience for the Singsys team to connect closely with the client-side and designated resources differently during the project and send it smoothly. We have worked on projects from March 2021 - August 2021. We hope to go together a long way.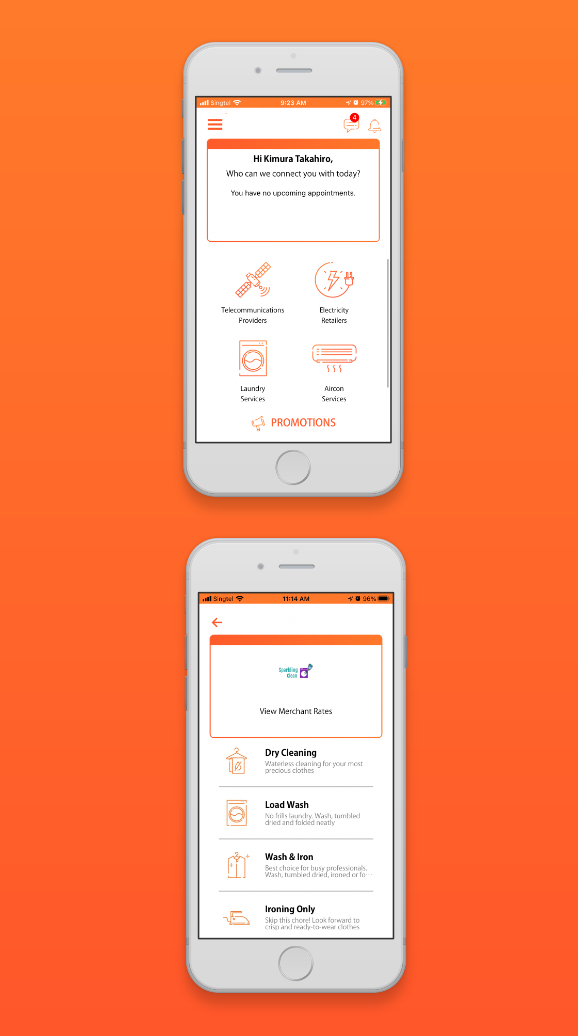 Technologies which were used
About COLLATE
COLLATE is an on-demand household service booking app.We are building an ecosystem where homeowners, tenants, property agents, and household service providers are connected and are able to engage each other directly and efficiently. This will help improve efficiency in hiring reliable merchants and arranging for appointments with the service providers. Transparent pricing, coupled with a customer-rated review system will help our customers make informed decisions on the best service provider to hire on-demand. Rigorous vetting measures are in place to ensure that we partner with trustworthy merchants in various household service industries. Through COLLATE, merchants enjoy an extended reach to new customers. They are able to promote their services, display advertorial posters, accept incoming booking requests instantly which will increase productivity and sales. We also welcome professionals to join us as sales agents for our telecommunication and electricity retailers.
Singsys designed the application with a futuristic approach with some incredible features which will help the users to book home services hassle free on a single click.
There are 4 major services which COLLATE offers to its users and merchants.
Laundry services- Laundry's a chore. Don't turn your fight over it into an MMA match. Leave it to our experts today. COLLATE laundry merchants handle everything from clothes to household items!

Load Wash
Dry Clean
Wash & Iron
Ironing Only

Electricity Retailers- Expensive electricity bills? COLLATE here to help you to Save up to 25% off your current electricity bill by making the switch to your preferred electricity retailer today.
Telecommunications Provider- Get connected to the world out there with the fastest Broadband and TV Entertainment selections!

TV Entertainment
Home Broadband
Mobile Services

Air-con Maintenance- Arguably the best invention. Especially for us living in a hot and humid climate. In order to work at its best,your air-con buddy needs regular servicing. Hire the best merchants to make sure your air remains cool and fresh!

Air-con Servicing
Chemical Wash
Chemical Overhaul
Air-con Repair
AC services will be provided on two packages:
One-Time
Package subscription(Quarterly Based)

We Took To Move Forward Professionally
Clients are more than a name– it's the guiding principle of what we do. We put the needs of our clients ahead of anything else. Get started by telling us what you need to meet your business goals. One of the major benefits of COLLATE is that they Home services to users and merchants
Also, the user can book services based on his needs and availability.
We ensured COLLATE with a successful launch of an idea right from the design stage till the final deployment of the project and support thereafter.
React JS for Native hybrid app development and Node JS for backend development.
Admin Panel for the client
Set-up Heroku Server given by client
In-App Purchase (Stripe)
Testing and Quality Check by certified professionals
Post Deployment Support and Maintenance after warranty period.
Not to forget, Under the best guidance of our experienced certified PROJECT MANAGER, the Mobile apps and Websites were developed within the given time frame.
Work For Home challenges and how we overcome the same
Communication between humans is already hard enough face-to-face, but it's much harder when working from home. People normally rely on non-verbal communication. This is why communicating effectively is one of the most common challenges we face when working from home.
We coped up with the situation after settling all team leaders and asked them to organize regular meetings to make sure everyone is on the same page. We considered having an open-door policy so our team can approach TL's to ask questions related to their work or role.
Challenges came but we were dealing with them, however, we were defeated by our special technical expertise.
User experience is very important for us and with the over saturation of the market, users know what they like and what they don't, so we have designed the website in a way that is user-friendly.
Choosing the right tech stack that aligns with the problems which we are trying to solve. We only considered the tech stack is widely used in the industry. With industry-standard tech stacks, We have a large pool of skilled developers to draw from for the initial build to the final launch stage.
App security is always the biggest challenge in developing applications. No matter what, we always included security throughout the development cycle.
Speed is definitely a ranking factor for us on the website and mobile application because it will have loads of traffic and data on it. We always thought about the performance before developing the final product. So we kept the website speed in mind on priority to load faster.
The biggest challenge for us was to manage the calculation process of different categories in laundry services.
Graph SQL Architecture is being used for the Database query.
Booking Date Change request for the user is not available, it can only be done by the merchants only if they accept or reject the booking.

Let's Connect!
Together, we'll scale milestones for your next business idea.