CodeIgnitor
Our smart approach to create custom helper in CodeIgniter reduces development time considerably enabling us developing full-featured web applications with a very less footprint.
uParcel - your easiest way to deliver
uParcel is a technological advanced mobile app and web platform offering consumers an ease to book parcel delivery booking service within seconds and ensures the delivery been made by a secured and trusted delivery agent.
Bakipa - The world's best baby, kids and maternity products
Bakipa is the world's best baby, kids & maternity products apps offering busy parents an ease to purchase from an array of latest and tested products within few simple clicks. Bakipa provides a platform for products ranging from toys,watches,baby clothes to maternity stuff. It is basically a platform that apart from furnishing the worldly needs it keep parents closer to kids ensuring a warm and wonderful atmosphere among them.
FNA Group
FNA group international is an established authority in the distribution and retailing of chocolate and confectionery in the Asia Pacific realm. Our developers have put their CodeIgniter expertise to design a web application that is in strict accordance with their service. Our designers have followed industry standards to highlight their core values using amazingly eye-pleasing color pattern. It is a clutter-free website with minimum content yet all business aspects being covered completely.

IVY
IVY is a IoT based personal security mobile application. We have developed it to generate a loud alarm, send user location with audio recording and make an emergency call to selected contact upon few simple taps. In this manner, this app is useful to in avoiding any form of assault and keeps you connected 24/7. The productivity and security provided by the app and its synchronisation with jewelry makes it an ideal gift choice for your loved ones to make them feel secure and safe everywhere.
Ten vehicles
Ten Vehicle is a Tour and Travel Application dedicated to commuters. In this application our developers enabled the user to be notified of the driver's profile, plate number, model along with choosing the custom vehicle of their choice for stressfree ride experience. TEN credit can be used for Top-up and avail promotions to ensure maximum users benefit from this app. Security is no more a concern as developers enabled an emergency button for users to alert TEN vehicles about their panic by holding it for 3 seconds.

BZR
This application is specifically designed to enable Halal food lovers find finest halal food around them at their fingertips. Our mobile app developers have ensured easy four step hassle free process to get your halal food delivered comfortably till your doorsteps. Secure and convenient e-payment option makes this app even more delightful. It is a good app to connect users with their favvy chefs and explore more.
Grouping
Grouping is a messaging app developed by us. It allows you to create rapid fast groups and start communication. Not only you can start communication, but you will be able to see past conversations of that group. In this app anyone can create a group and others can immediately start communicating on it without disclosing their mobile phone numbers.
LoveFix
LoveFix believe in uniting the peoples globally who love to be together by dismissing the boundary between them. The technology is aimed to make dating a delicious experience by turning uneasy moments and unnecessary long process into an interactive experience. development team ensured that user can buy and send a gift to their date through the app as well enabled them to share their favorite snaps with their match for 24 hours. It is a CI based web app
Rivid
Rivid is an iOS and Android app that believe in all time tutoring. It provide seamless online platform for freelance teachers and students to earn and learn respectively. Rivid provides an education platform 24*7 to choose time that suits user best. It connects it members with their online community for highest possible visibility of tutors. It provides timely notifications to sync everyone and achieve more together.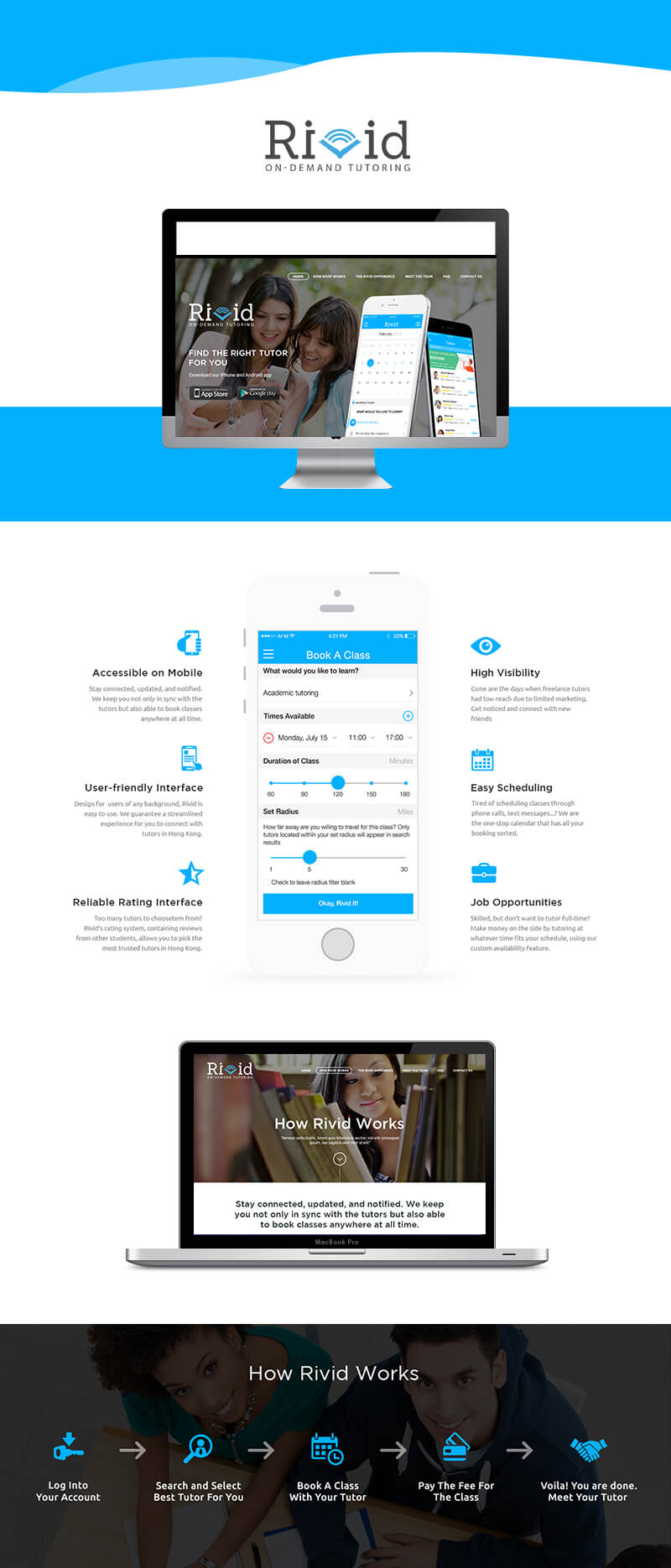 Kourier
It is Singapore based online portal that acts as logistic maintenance platform by connecting the user with right delivery agents to deliver the parcel. Our web developers have ensured a flexible and user-friendly platform where fast and reliable delivery partners are advised to make parcel delivery a delightful experience. We have also designed a mobile app with GPS enabled tracking feature to keep users informed about the exact location of the parcel. They also provide flexibility to rearrange a delivery free of charge.
Get Avis
It is an Education and Carrer category app developed to assist job seekers find the best fit job as per their qualification, experience and area of interest. Build your personalized profile with help of GetAvis to get noticed by recruiters easily and quickly. Recruiter get an opportunity to choose appropriate candidate based on job criterion and industry orientation. Our app developers have included the feature to notify you regarding latest job trends to ensure you dont miss an opportunity. Our graphic designer contributed to them by making their message reach the maximum audience with indisutry oriented logo that is in sync with with their vision.
Find me
Find me is an Internet of Things which is the simplest way to track your important items, so you can always be connected to the things which you can't afford to lose. This app is developed for iOS using swift and in Android, using Java technology. Find your lost or misplaced items through this IoT based mobile application which is developed to deliver a perfect user experience and safety of your important things.
Salon Bar
Salon Bar is a team of online salon service providers where you can find top salon services near you like haircut, weave, spa, nails, makeup, barber, color, massage and braids from top salons with full of experienced and highly trained hair stylists offering first class services at great value prices using the best quality products combined with practical knowledge and passion to serve. Our Web developers have enlisted multiple hairstylist and more option with a clean interface wrapped in a user friendly theme.

Me-Retail
ME Retail Solutions understand the importance of quick and accurate parcel delivery hence our developers leveraged CodeIgniter for enabling a hassle-free web platform to deliver the client courier within the promised time frame. They are primarily focused on small-time online business in Singapore.
iSolace
iSolace Android app which is managed by flexible admin panel developed by using CodeIgniter on App Engine with MySQL DataBase. Will bring peace-of-mind to you and your family by securing your all needful assets, contacts and their beneficiary along with that you can make arrangement to your own funeral like Dress code, locations, flowers, and prayers. The application will help you to enter details of your specific friends who you want to be notified of your wishes and other important information when the end arrives.
GIVO Donner and Charity App
A great platform for charity enthusiasts to connect with their charity cause and others who share the similar belief. Our app developer implemented latest security measure to safeguard donations done via an app from online threats as well as we have enabled donation tracking for users. We have also provided the functionality for users to share the photos and stories with the followers and donors for motivating other to be a part of charity and make this world equally delightful for all.

Green Planner
ENVIS-NBRI - Green Planner Android app developed by CSIR-NBRI (National Botanical Research Institute), Lucknow. This mobile app contains database about plants that are useful in mitigating air pollution. Our android developers have ensured a simple and appealing theme along with intuitive navigation to let user easily explore the app. The interesting feature is it also contains the distribution sites of plants along with suitable planting sites and with other ecological benefits associated with it.

Print Social Book
This web application allows user to turn his Facebook timeline into an engaging and chronological social book. Our CodeIgniter developers have put the required functionalities so that users can tell their story in unique and creative manner. This way users can transform their awesome moments and achievements available on his social networks into a permanent ebook. It can be dowloded and printed for a comfortable experience.
Unibly
This app is a platform for college students and alumni to be connected as well as share snaps with your friends. Our app developers have ensured users can create an exciting event that is secured with password and can be shared with selected peoples. Advanced filter and chat notification on all screen option is included to give the user a unique and smooth experience. Our graphic designers have embodied their concept in form of logo to impress the user with first quick glance.
Fortress Insure Solutions Hub (FISH)
Fortress Insure Solutions Hub (FISH) is a website designed and developed by us with the aim of creating the best experience for consumers to get comprehensive insurance solutions tailor-made to protect their business and personal assets. It is a web portal that provides wide range of insurance products to suit all different business and personal needs. We tried to completely bring the user friendly experience that presented the full range of services in a clear and engaging way.

Ready Coutour
Couturissimo aims at lessening the gap between couture and ready-to-wear by offering you couture ready collection from globally renowned couture designers. They are passionate about making the generally inaccessible world of high-end couture easily available and equally affordable.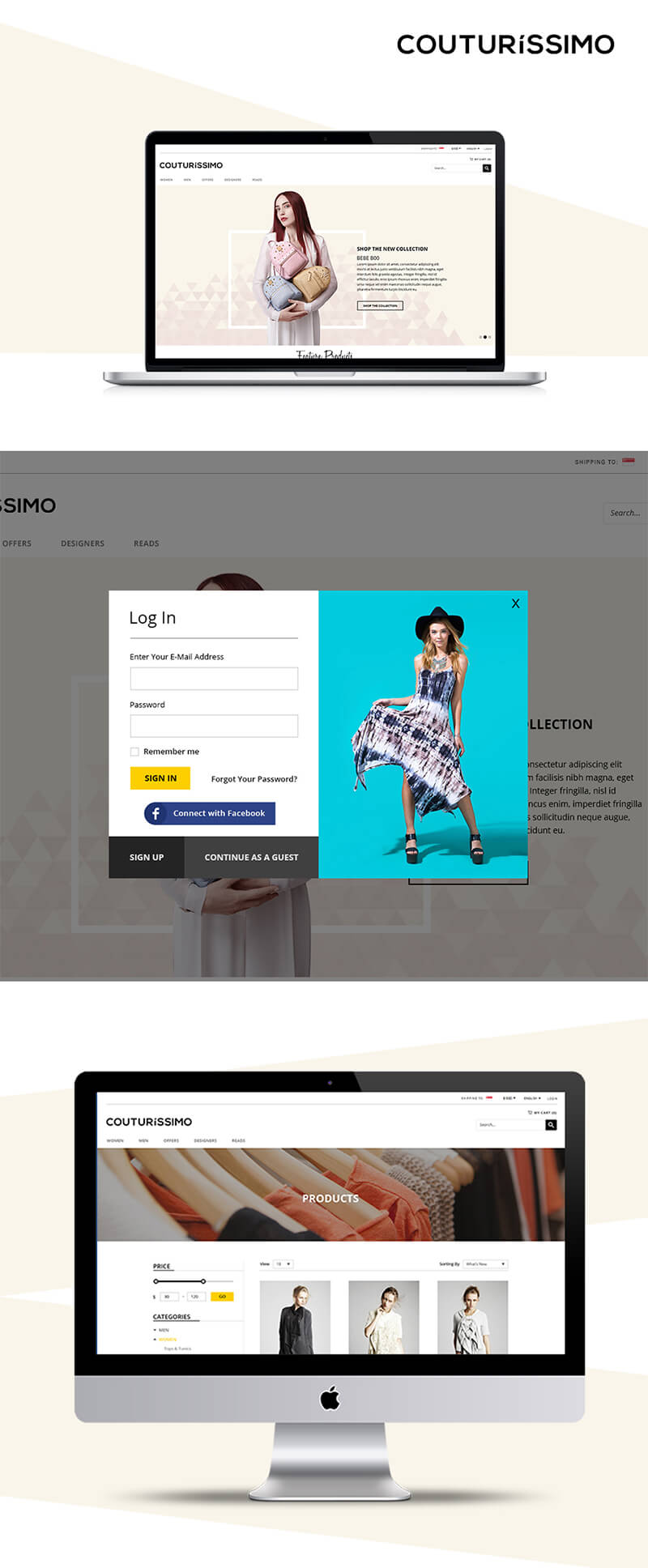 SPS Flyer
SPS is a kid-friendly hair salon in Singapore that believes every kid deserve fun. They cater to children's needs with handling your kids while doing their hair. We designed a website with a kid-friendly UI to appeal users and an iPad application to help parents in getting a membership and get their queue number generated. They are aware that doing a kid hair is no easy job, therefore, always ensure to engage your little one with engaging iPad games and movies so the haircut is a pleasant experience. Their web application is based on CodeIgniter.
Vivah Creations
Vivah Creations is matrimony platform that provide perfect match based on rigorous refining from thousands of users based on various parameters collectively or individually. It is a Laravel based Web application .They provide proper and secure Email conversation mode and personal details are shared after mutual consent. A bunch of success stories speaks for their sincere efforts towards pair matching.
TFCS
We crafted this app for The Fashion Collective Singapore (TFCS), Singapore's first industry-driven network of professional beauty & fashion freelancers. TFCS app displays the portfolios of makeup artists, hair experts, photographers, illustrators, musicians, designers and copywriters and all other creative industry professionals.
Renn Property
Rennproperty is a popular real estate and property selling and buying platform in Singapore. Our experts made it using PHP and MySQL database. The site has a variety of Industrial, Commercial and Residential properties. Website has a soothing interface to work with.
Qweue: A Social Hub
The app was designed and developed against a concept of providing people with with similar interest to join in and make social hubs. Users can search other users based on the interest groups, befriended and can share knowledge and thoughts over an intuitive chat interface. The app allows the users to create a friend circle and also increase the circle to form a hub of people by connecting to mutual friends. The app works in seamlessly with the phonebook and allows users to add others to their phonebook vi mens of in-app services.
Digital Assessment Disk
Digital Assessment Disk offers comprehensive assessment platform for analyzing data in quick and strategic manner under Human resource,Sports, Academic and others such background. DAD is an iPad Application. Their robust design enable smooth handling of large digits hence  their analytics program is speedy and convenient. It has made assessment concise, crisp and accurate.
Fash Journal
Fash Journal is fashion lovers heaven that allows users to view the articles and videos on fashion, health and beauty and style the latest fashion. Their primary focus is on delivering tomorrow's trends today for free at the same time engaging readers with updates on local and international fashion.
Gunjan and Associates
Gunjan and Associates is the proprietorship firm founded by passionate architecture professionals 20 years ago. It has primary focus on delivering exclusively researched and quality design services as far as architecture, interior design, landscape, and urban design are concerned. Interestingly they are also lessening the gap between academic and profession by providing practical experience on live projects to build a sense of confidence within students.
Reverie
Based on the novel concept of encouraging Singaporeans to Live, Love and Lend Reverie is first digital Social Auction of Singapore developed with intention of building a cause-conscious community. Now it is easier as well as enjoyable to reflect your gratitude towards society by giving back in form of lifestyle products auction from which a considerable portion of profits is paid back to society.
LetsBroad
In this project we have designed and developed a website and mobile application (iOS and Android) for LetsBroad which is a social app to share and broadcast videos, images, audios and much more. It is a dynamic new social media platform that gives users the ability to share and discover fun in their country or a vicinity of 3 kilometers (2 miles). Few highlighted features of app are who's near me, Group interaction, User's global and local rank etc.
MiceHQ
MiceHQ is a website which provides a common platform to see venues services or events associated with them. Here user can sign up to add their business here and increase the visibility of their business among the masses. We have developed this website in codeignitor frame work of php.
Got a new project? Drop us a line.